CHARACTERISATION OF AmCCR1 AND pseudoCOMTAm PROMOTERS IN Acacia mangium
Keywords:
Acacia mangium, AmCCR1 promoter, pseudoCOMTAm promoter, sequence analysis
Abstract
Acacia mangium is one of the most important species in forest plantation industry in Southeast Asia. Lignin is a complex polymer found in plant which has to be removed using harsh and toxic chemicals for the production of high quality paper. Understanding the complex pathway that underlies the regulation of lignin biosynthetic genes requires in depth knowledge of the genes involved and it's regulatory elements. Using Thermal Asymmetric Interlaced PCR, a 770bp promoter of pseudoCOMTAm and 619bp of AmCCR1 promoter were isolated. Bioinformatics analysis revealed the presence of cis acting elements commonly found in lignin biosynthetic genes such as TATA box, CAAT box, W box, AC-I and AC-11 elements on both promoters.
Downloads
Download data is not yet available.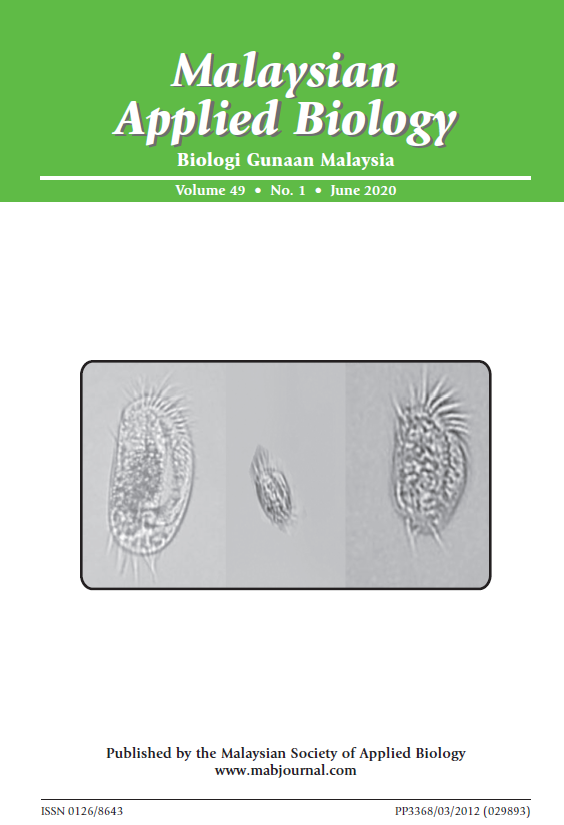 How to Cite
ABDUL LATIF, A., TAM, S. M. ., & RATNAM, W. . (2020). CHARACTERISATION OF AmCCR1 AND pseudoCOMTAm PROMOTERS IN Acacia mangium. Malaysian Applied Biology, 49(1), 153–158. https://doi.org/10.55230/mabjournal.v49i1.1668
Section
Research Articles
Copyright & Licensing
Any reproduction of figures, tables and illustrations must obtain written permission from the Chief Editor (wicki@ukm.edu.my). No part of the journal may be reproduced without the editor's permission