TOLERANCE LEVEL OF GRAFTED PAPAYA PLANTS AGAINST PAPAYA DIEBACK DISEASE
Keywords:
Carica papaya, Eksotika, grafted papaya, highly tolerant rootstock, Viorica
Abstract
Papaya (Carica papaya) cultivars commonly grown in Malaysia, namely Sekaki and Eksotika, are very susceptible to papaya dieback disease (PDD), resulting in reduced production of papayas. As an alternative, grafted papaya seedling using Viorica variety as a highly tolerant rootstock can be introduced to combat PDD. Three grafting combinations of scion/rootstock were used in this study namely Eksotika/Eksotika (E/E), Eksotika/Viorica (E/V) and Viorica/Viorica (V/V). These grafted plants were tested over hot-spot diseased location to evaluate their field tolerance levels against PDD for 14 months of exposure. The occurrence of PDD on grafted papaya plants showed that the disease was mostly found in the E/E combination, with disease severity of 86.7% and a disease score of 4.34, whereas the disease severity and disease score of E/V grafting was 71.0% and 3.55, respectively. The lowest disease occurrence was recorded on V/V plants, with a disease severity of 34.3% and a disease score of 1.72. Results showed that E/E and E/V were highly susceptible, while V/V was tolerant against PDD. Therefore, papaya var. Viorica rootstock proved that it could influence the tolerance level of papaya cv. Eksotika scion against PDD.
Downloads
Download data is not yet available.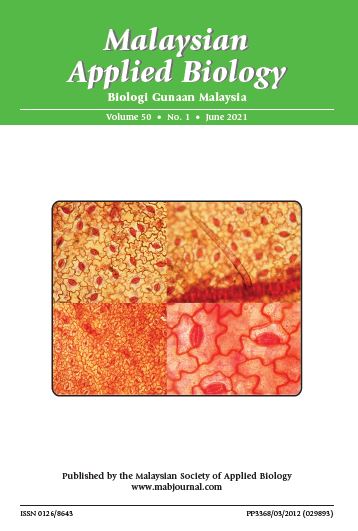 How to Cite
MOHD-AZHAR, H., SARIP, J., GHAZALI, N. F., MOHD RAZIKIN, M. Z., & MARIATULQABTIAH, A. R. . (2021). TOLERANCE LEVEL OF GRAFTED PAPAYA PLANTS AGAINST PAPAYA DIEBACK DISEASE. Malaysian Applied Biology, 50(1), 95–103. https://doi.org/10.55230/mabjournal.v50i1.16
Section
Research Articles
Copyright & Licensing
Any reproduction of figures, tables and illustrations must obtain written permission from the Chief Editor (wicki@ukm.edu.my). No part of the journal may be reproduced without the editor's permission