MICROSATELLITE MARKERS FOR THE MOLECULAR CHARACTERISATION OF POTENTIALLY COMMERCIAL MANGO (Mangifera indica) PROGENIES
Keywords:
DNA fingerprinting, genetic relationship Mangifera indica, SSR marker
Abstract
Mango, or Mangifera indica as it is scientifically known, is a fruit crop that has significant importance to the global economy. This study characterised 10 commercially potential mango progenies using a total of 10 SSR markers. The analysis of the 10 SSR markers revealed the presence of 34 alleles. Each locus had 2–6 alleles equal to an average of 3.40 alleles per locus. The data also showed 0.115 (MiIIHR21) to 0.692 (MiIIHR28) polymorphic information content (PIC), equal to an average of
0.431. Each locus had heterozygosity and gene diversity values ranging from 0.044 (M1) to 0.957 (MiIIHR29) and from
0.122 (MiIIHR21) to 0.730 (MiIIHR29), respectively, averaging 0.480 and 0.476 each. The range of the pairwise genetic distance was 0.000 (ND014«ND019) to 0.611 (ND020«SB003). The dendrogram analysis showed that each mango progeny was successfully differentiated using the 10 SSR markers except for ND014 and ND019. The allele combination using these 10 SSR markers could be used to develop a DNA profile for fingerprinting purposes for each progeny except for ND014 and ND019, which can only be differentiated with the addition of an extra marker. The developed DNA fingerprinting profile could be used for cultivar identification and authentication. Additionally, breeders could also use the developed DNA profiles for plant variety protection (PVP) purposes.
Downloads
Download data is not yet available.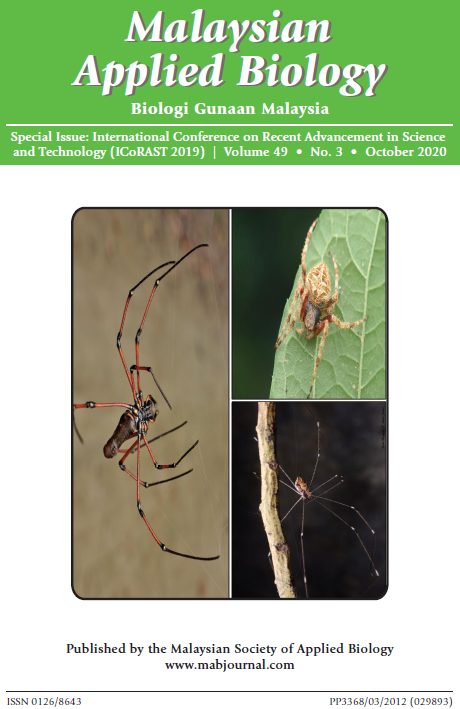 How to Cite
AB RAZAK, S. ., ARIFFIN, M. A. T. ., MOHAMAD, S. M. S. ., AZMAN, N. H. E. N. ., HASSAN, M. A., & SARIP, J. . (2020). MICROSATELLITE MARKERS FOR THE MOLECULAR CHARACTERISATION OF POTENTIALLY COMMERCIAL MANGO (Mangifera indica) PROGENIES. Malaysian Applied Biology, 49(3), 81–85. https://doi.org/10.55230/mabjournal.v49i3.1546
Section
Research Articles