EFFECT OF DIFFERENT TYPES AND CONCENTRATION OF ROOTING HORMONES ON Momordica cochinensis (GAC FRUIT) ROOT VINE CUTTINGS
Keywords:
Rooted vine cutting, dieocious, rooting formation, surviving rate, sprouting
Abstract
Momordica cochinchinensis (Gac fruit) grows as perennial climbers and dioecious plants, where it can be cultivated from seeds, root tubers, and root vine cuttings. Rooted vine cuttings are more reliable than seed propagation, which can be affected by dormancy and delay production. The application of auxin group of hormones such as Indole acetic acid (IAA), Indole-3- butyric acid (IBA), and Naphthaleneacetic acid (NAA) in certain concentrations shown good results in inducing root initiation faster and effective. However, experimental data and information on the plant growth hormone application on M. cochinchinensis vine cuttings propagation are not very extensive, especially in Malaysia. Thus, the objective of this study was to determine the effect of different concentrations of IAA, IBA, and NAA on M. cochinchinensis vine cutting propagation. The design of the experiment is a randomized complete block design in a factorial experiment, with five replications. The treatments comprised three types of plant growth hormone, IAA, IBA, and NAA with 0, 500, 1000, and 3000 ppm concentrations. Data recorded were surviving rate or percentage of rooting, root numbers per rooted cutting, means of root length, length of longest root, total root length per rooted cuttings, sprouting percentage, and sprouting length. The vine cutting treated with IBA and NAA 1000 ppm has shown a considerably positive effect in root formation and sprouting.
Downloads
Download data is not yet available.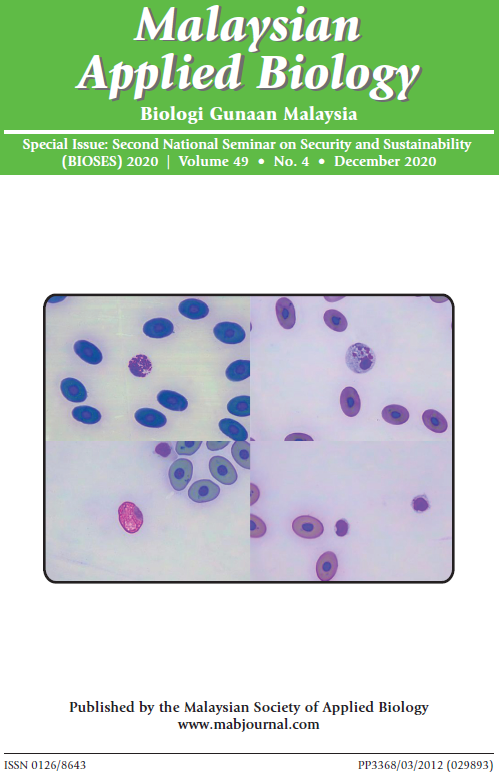 How to Cite
HAMIDON, A. ., M. SHAH, R. ., RAZALI, R. M. ., & LOB, S. . (2020). EFFECT OF DIFFERENT TYPES AND CONCENTRATION OF ROOTING HORMONES ON Momordica cochinensis (GAC FRUIT) ROOT VINE CUTTINGS. Malaysian Applied Biology, 49(4), 127–132. https://doi.org/10.55230/mabjournal.v49i4.1602
Section
Research Articles
Copyright & Licensing
Any reproduction of figures, tables and illustrations must obtain written permission from the Chief Editor (wicki@ukm.edu.my). No part of the journal may be reproduced without the editor's permission