ASSOCIATION BETWEEN ROOT COMPLEXITY OF Rhizophora apiculata AND SEDIMENTATION AT PANTAI KELANANG, SELANGOR
Keywords:
Mangrove, sedimentation, silt, clay, pneumatophores, sand, root complexity
Abstract
Roots play important roles in tree structural adaptation and accumulation of nutrients during growth. This is particularly critical for mangrove trees that facing strong current and weak based for implantation in the sand. However, how the complexity of mangrove roots contributes to structural adaptation and affect sedimentation remains unelucidated. In this study, the complexity of Rhizophora apiculata's roots influence the sedimentation under the root structures and at the walkway area in Pantai Kelanang, Morib were investigated. The complexity of R. apiculata pneumatophores was computationally analyzed. The sediment composition was measured using a wet-sieve method and laser diffraction method. The correlative analysis shows that no definite pattern between angles and lengths of R. apiculata roots. Assessment of sediment composition shows significant differences between walkways and under the roots. There is a high accumulation of organic matter and sand in sediment samples from under the roots. While the walkway has a high accumulation of clays and silt than others. Mathematical scoring reveals a positive association between root complexities with the accumulation of organic matters and sand in both areas. While sand and clay accumulation are inversely associated.
Downloads
Download data is not yet available.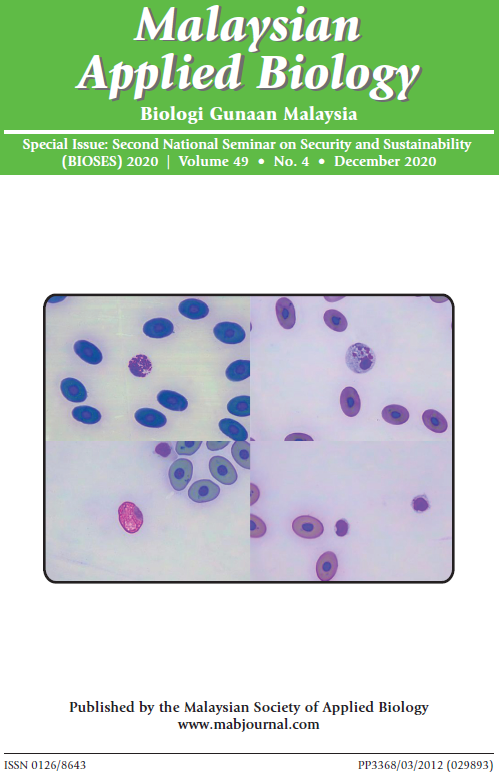 How to Cite
RAHEMAN, N. Y. ., NORDIN, R. M. ., ABDULLAH, M. ., & HASSIM, M. F. N. . (2020). ASSOCIATION BETWEEN ROOT COMPLEXITY OF Rhizophora apiculata AND SEDIMENTATION AT PANTAI KELANANG, SELANGOR. Malaysian Applied Biology, 49(4), 141–148. https://doi.org/10.55230/mabjournal.v49i4.1605
Section
Research Articles
Copyright & Licensing
Any reproduction of figures, tables and illustrations must obtain written permission from the Chief Editor (wicki@ukm.edu.my). No part of the journal may be reproduced without the editor's permission