FOLIAR SPRAYED-SILICON TO INDUCE DEFENSE-RELATED ENZYMATIC ACTIVITY AGAINST Pyricularia oryzae INFECTION IN AEROBIC RICE
Keywords:
Silicon, foliar application, defense-related enzyme, rice blast disease, Pyricularia oryzae, aerobic rice
Abstract
Rice blast disease caused by Pyricularia oryzae is the most devastative disease. The alternative in rice blast disease management using foliar silicon (Si) application is gaining attention. The mechanism underlying defense-related enzyme induced through foliar Si application is still scarce. This research aimed to elucidate the bio-efficacy of foliar Si in inducing defense-related enzyme activity against P. oryzae in two aerobic rice cultivars: MR219-4 (blast-partially resistant) and MARDI Aerob 1 (resistant). Calcium silicate at 9 mg/L was foliar-sprayed and the disease severity index was evaluated and transformed to the area under disease progress curves (AUDPC). Foliar Si application significantly reduced rice blast disease severities in both cultivars tested. The AUDPC was reduced to 96.57 (MR219-4) and 21.90 (MARDI Aerob 1), from 148.57 (MR219-4) and
53.73 (MARDI Aerob 1). Plant defense-related enzymes: peroxidase (PO), polyphenol oxidases (PPO), and phenylalanine ammonia-lyase (PAL) were increased and might be associated to increase resistance. Also, there was a significant interaction (p=0.003) between rice cultivar and treatment to Si content in rice leaf. Thus, foliar application of Si in rice seedling underlined the important role of Si as a modulator in influencing plant defense-related enzymes with interacting with other stress signaling pathways leading to induce resistance.
Downloads
Download data is not yet available.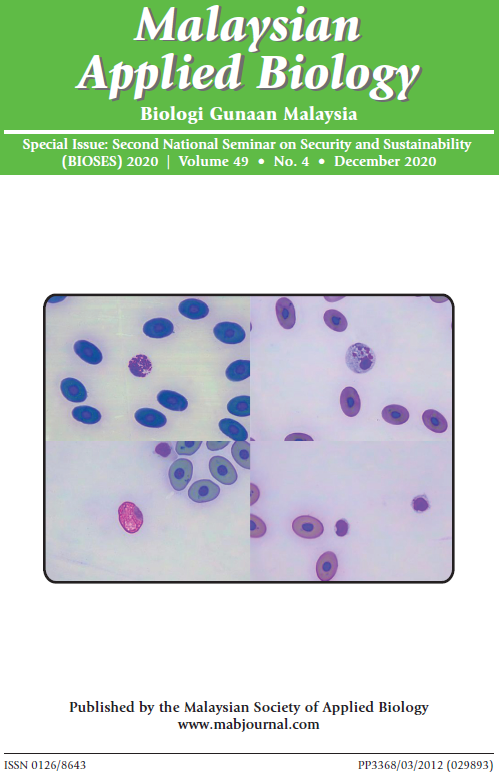 How to Cite
NG, L. C. ., ADILA, Z. N. ., HAFIZ, E. M. S., AZIZ, A. ., & ISMAIL, M. R. . (2020). FOLIAR SPRAYED-SILICON TO INDUCE DEFENSE-RELATED ENZYMATIC ACTIVITY AGAINST Pyricularia oryzae INFECTION IN AEROBIC RICE. Malaysian Applied Biology, 49(4), 213–221. https://doi.org/10.55230/mabjournal.v49i4.1622
Section
Research Articles
Copyright & Licensing
Any reproduction of figures, tables and illustrations must obtain written permission from the Chief Editor (wicki@ukm.edu.my). No part of the journal may be reproduced without the editor's permission