EFFECT OF HEAT PRETREATMENTS ON CHEMICAL AND ANTIOXIDANT PROPERTIES OF MELON MANIS TERENGGANU (Cucumis melo var. Inodorus cv. Manis Terengganu 1) SEED OIL
Keywords:
Heat pretreatment, seed, oil, Melon Manis Terengganu, antioxidant
Abstract
The main objective of this study was to determine effect of different heat pretreatments on chemical and antioxidant properties of Melon Manis Terengganu (MMT) seed oil. The seeds were treated with four different heat pretreatment which were untreated (control), roasting, steaming and microwaving. Then the MMT seed oil was extracted from each treated seed using conventional extraction method. The chemical tests determined on the MMT seed oil were free fatty acid (FFA), iodine value (IV), saponification value and fatty acid composition. The antioxidant properties for MMT seed oil evaluated was total phenolic content (TPC), 1,1- diphenyl-2-picrylhdrazyl (DPPH) scavenging capacity and Ferric reducing antioxidant power (FRAP). It was found that different heat pretreatments of MMT seed significantly (p<0.05) affected the oil yield (11.10–15.40%.), free fatty acid value (3.55–5.04%), DPPH radical scavenging activity (43.06–56.08%), total phenolic content (0.088–0.142 mg GAE/g) and FRAP activity (0.0723–0.110 mmole/100 mL). However, the seed heat pretreatment did not affect the fatty acid composition significantly (p<0.05). As for iodine value, it was different between untreated seed (107.89 g I2/100g) and steamed seed (104.41 g I2/100g) only (p<0.05).
Downloads
Download data is not yet available.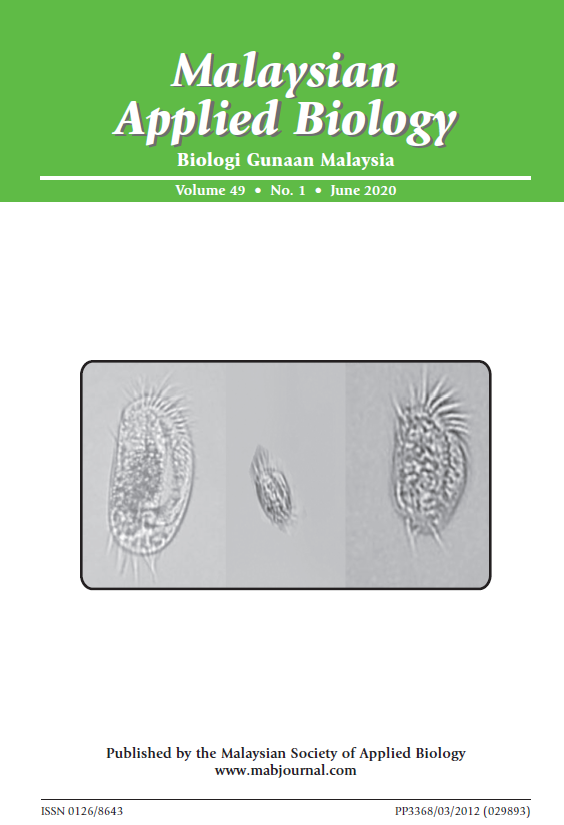 How to Cite
AMIN, A. M. ., MAT ROSDI, N. I. ., IBRAHIM, N. H. ., & TENGKU MOHAMAD, T. R. . (2020). EFFECT OF HEAT PRETREATMENTS ON CHEMICAL AND ANTIOXIDANT PROPERTIES OF MELON MANIS TERENGGANU (Cucumis melo var. Inodorus cv. Manis Terengganu 1) SEED OIL. Malaysian Applied Biology, 49(1), 105–114. https://doi.org/10.55230/mabjournal.v49i1.1661
Section
Research Articles
Copyright & Licensing
Any reproduction of figures, tables and illustrations must obtain written permission from the Chief Editor (wicki@ukm.edu.my). No part of the journal may be reproduced without the editor's permission