ANTIFUNGAL ACTIVITY OF DICHLOROMETHANE AND HEXANE EXTRACTS OF FOUR MALAYSIAN SEAWEED SPECIES AGAINST Ganoderma boninense
Keywords:
seaweeds, antifungal, Ganoderma boninense, GC-MS
Abstract
Ganoderma boninense is a major oil palm fungal pathogen that caused basal stem rot disease and serious efforts are required to identify alternative methods to control this disease. To date, little attempt was done to explore the antifungal potential of bioactive compounds in seaweeds. This study reported the antifungal activity of seaweed extracts against G. boninense. Seaweeds cfSargassum oligocystum, Caulerpa racemosa var. lamourouxii, Caulerpa racemosa and cfHalimeda macrophysa were collected from Port Dickson, Malaysia and extracted using dichloromethane and hexane. The antifungal activity assay towards G. boninense was carried out using the poisoned food technique followed by gas chromatography-mass spectrometry (GC-MS) to screen the compounds in the seaweed extracts. Our findings revealed that C. racemosa var. lamourouxii- dichloromethane extract exhibited the highest antifungal activity at a concentration of 0.25 mg/mL with 46.82% inhibition of
boninense's growth followed by C. racemosa var. lamourouxii-hexane extract with 36.43% inhibition. Phytol and tetradecanoic acid were found to be the dominant compounds in the extracts and further analysis of phytol standard proved its antifungal activity. This study highlights the potential of local Malaysian seaweed species as a source of natural and powerful antifungal compounds which could be useful for alternative oil palm disease control in Malaysia.
Downloads
Download data is not yet available.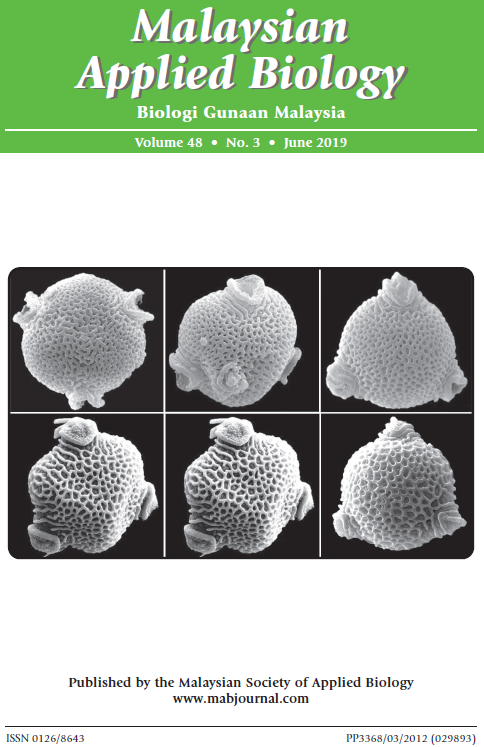 How to Cite
ABDUL AZIZ, S. D. ., JAFARAH1, N. F. ., SABRI, S., ABDUL WAHAB, M. A. ., & YUSOF, Z. N. B. (2019). ANTIFUNGAL ACTIVITY OF DICHLOROMETHANE AND HEXANE EXTRACTS OF FOUR MALAYSIAN SEAWEED SPECIES AGAINST Ganoderma boninense. Malaysian Applied Biology, 48(3), 189–196. Retrieved from https://jms.mabjournal.com/index.php/mab/article/view/1854
Section
Research Articles
Copyright & Licensing
Any reproduction of figures, tables and illustrations must obtain written permission from the Chief Editor (wicki@ukm.edu.my). No part of the journal may be reproduced without the editor's permission