USE OF CALCIUM CARBONATE-NANOPARTICLE-LONGKONG PEEL EXTRACT IN EDIBLE COATING TO DELAY LONGKONG FRUIT BROWNING
Keywords:
Calcium carbonate, longkong peel extract, coating, browning, polyphenol oxidase
Abstract
The effect of calcium carbonate (CaCO3)-nanoparticle-longkong peel extract (LPE) coating on quality and browning of longkong after harvesting were evaluated. Edible coating (carrageenan) was used as a component of 1 mM CaCO3 and 2.00 mg LPE. Longkongs were coated with 0 (control), 1 and 2% carrageenan and storing them at 13°C and 90-95% RH for 14 days. Longkong were analyzed for changes in browning pigment, L* value, pH, total phenolic content, polyphenol oxidase (PPO) and total sugar. The results showed longkong coating with 1 and 2% carrageenan (CGN) lower browning pigment, which correlated with a decrease in PPO and total phenolic content than control. However, longkong coating with 1% CGN delayed browning more than longkong coating 2% CGN during ten days of storage. While the sugar was significantly higher in control compared to 1 and 2% CGN. Longkong treated with 1 and 2% CGN showed no significantly a decrease in pH when compared to the control fruit.
Downloads
Download data is not yet available.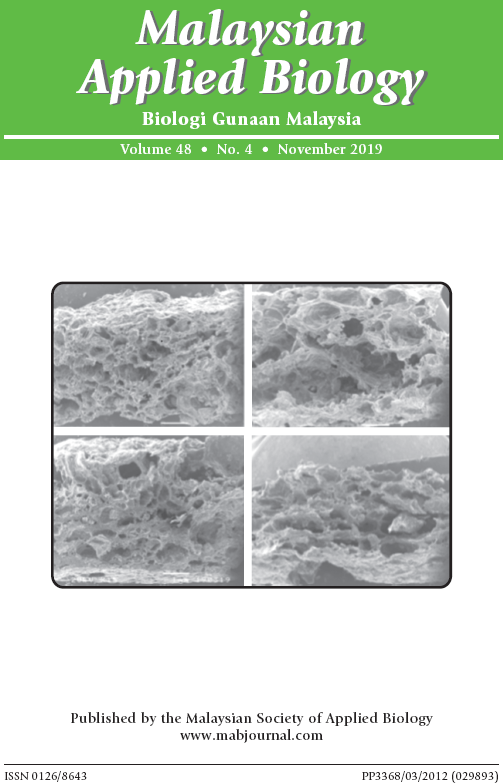 How to Cite
LICHANPORN, I., NANTACHAI, N., & TANGANURAT, P. (2019). USE OF CALCIUM CARBONATE-NANOPARTICLE-LONGKONG PEEL EXTRACT IN EDIBLE COATING TO DELAY LONGKONG FRUIT BROWNING. Malaysian Applied Biology, 48(4), 33–38. Retrieved from https://jms.mabjournal.com/index.php/mab/article/view/1874
Section
Research Articles
Copyright & Licensing
Any reproduction of figures, tables and illustrations must obtain written permission from the Chief Editor (wicki@ukm.edu.my). No part of the journal may be reproduced without the editor's permission