ENHANCED SURVIVAL OF PROBIOTICS BY ENCAPSULATION WITH PLANT EXTRACTS DURING FOAM-MAT DRYING AND UNDER SIMULATED GASTROINTESTINAL CONDITIONS
Keywords:
Foam-mat drying, probiotic, co-encapsulated, plant extracts
Abstract
Survival of probiotic bacteria, Pediococcus pentosaceus ARG-MG12 encapsulated in sodium alginate beads with different plant extracts (onion, soybean, and lotus root) were tested under simulated gastrointestinal conditions compared with free cells. Encapsulated P. pentosaceus ARG-MG12 in sodium alginate solution with onion and soybean extracts revealed the highest survival under bile salt. The survival increased proportionately with increasing extracts concentrations. Microencapsulation enhanced acidic survival of all probiotic strains compared to free cells. P. pentosaceus ARG-MG12 co- encapsulated with 3% soybean extracts showed the highest survival of 9.98 log CFU/mL (p < 0.05) after bile salt exposure for 3 hr, while the control including microencapsulated cells without extracts exhibited 8.66 log CFU/mL of survival. Alginate coating of the soybean extracts co-encapsulated probiotic increased survival during foam-mat drying at 70°C to 98.39% compared to that of uncoated which showed 87.55% survival. Co-encapsulated P. pentosaceus ARG-MG12 stored in hard gelatin capsule and aluminium foil bag at 8°C for eight weeks showed higher survival than room temperature.
Downloads
Download data is not yet available.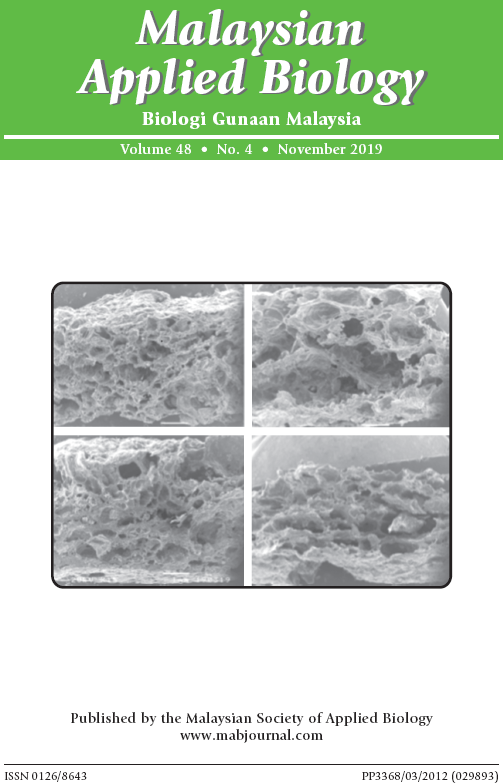 How to Cite
TANGANURAT, P., LICHANPORN, I., NANTACHAI, N., & CHAROENCHAI, C. (2019). ENHANCED SURVIVAL OF PROBIOTICS BY ENCAPSULATION WITH PLANT EXTRACTS DURING FOAM-MAT DRYING AND UNDER SIMULATED GASTROINTESTINAL CONDITIONS. Malaysian Applied Biology, 48(4), 53–60. Retrieved from https://jms.mabjournal.com/index.php/mab/article/view/1877
Section
Research Articles
Copyright & Licensing
Any reproduction of figures, tables and illustrations must obtain written permission from the Chief Editor (wicki@ukm.edu.my). No part of the journal may be reproduced without the editor's permission