EFFECT OF EXTRACTION METHODS ON THE PHYSICOCHEMICAL PROPERTIES OF FIBER FROM BAMBOO SHOOT WASTE
Keywords:
Bamboo shoot waste, dietary fiber, physicochemical properties
Abstract
Canned bamboo shoot process generated bamboo shoot waste about 50% of raw material. This waste was a rich source of dietary fiber. This study investigates the effect of extraction methods, including (1) water, (2) citric acid, (3) ethanol, acid and base, and (4) enzymatic solution, on the physicochemical properties of dietary fiber of bamboo shoots base and strips. The results indicated that enzymatic extraction of bamboo shoots base provided the highest total dietary fiber (79.05%), soluble dietary fiber (34.72%), water holding capacity (15.08 g/g) and swelling capacity (7.23 mL/g). Therefore, enzymatic extraction of bamboo shoots waste was able to provide a potential dietary fiber which can be used as an ingredient in functional foods.
Downloads
Download data is not yet available.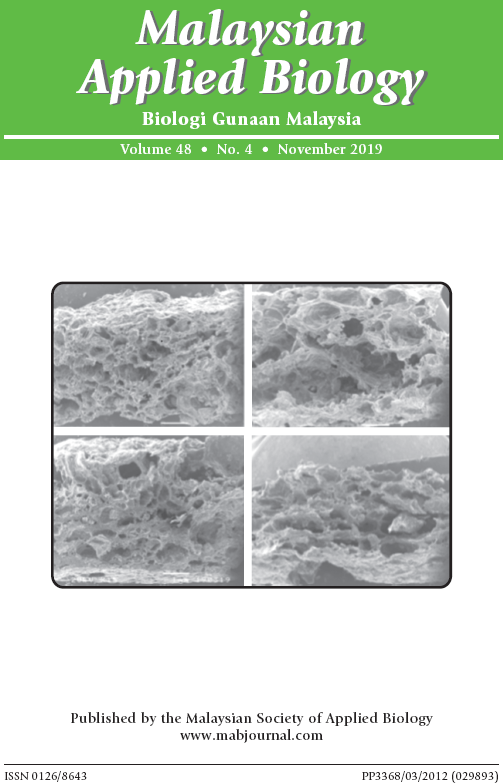 How to Cite
WICHARAEW, K. ., PROMMAJAK, T., & RUENWAI, R. (2019). EFFECT OF EXTRACTION METHODS ON THE PHYSICOCHEMICAL PROPERTIES OF FIBER FROM BAMBOO SHOOT WASTE. Malaysian Applied Biology, 48(4), 39–45. Retrieved from https://jms.mabjournal.com/index.php/mab/article/view/1875
Section
Research Articles
Copyright & Licensing
Any reproduction of figures, tables and illustrations must obtain written permission from the Chief Editor (wicki@ukm.edu.my). No part of the journal may be reproduced without the editor's permission