EFFECT OF VEGETABLE OIL BLENDING ON ACRYLAMIDE DURING POTATO DEEP-FRYING
Keywords:
Acrylamide, deep-frying, vegetable oil
Abstract
The aim of this study was to determine the effect of various types of deep-frying oil on acrylamide formation in deep-fried potato. Straight cut potato was deep-fried in palm oil (P), coconut oil (C), rice bran oil (RBO), mixture of vegetable oil formula 1 and formula 2 (patent pending) at 150°C and 170°C for 12 minutes as cycle 1 and continuously deep-frying by reusing the same oil as cycle 2. The method used for analysis of acrylamide included solvent extraction and HPLC coupled with DAD. Compared with the control treatment (P), RBO had lowest acrylamide content in cycle 1 at both 150°C and 170°C. However, C showed the highest potential to be used as repeated deep-frying oil at both 150°C and 170°C. The result of this study suggested that the blending of vegetable oil can provide lower acrylamide content in deep-fried food as compared with conventional deep-frying.
Downloads
Download data is not yet available.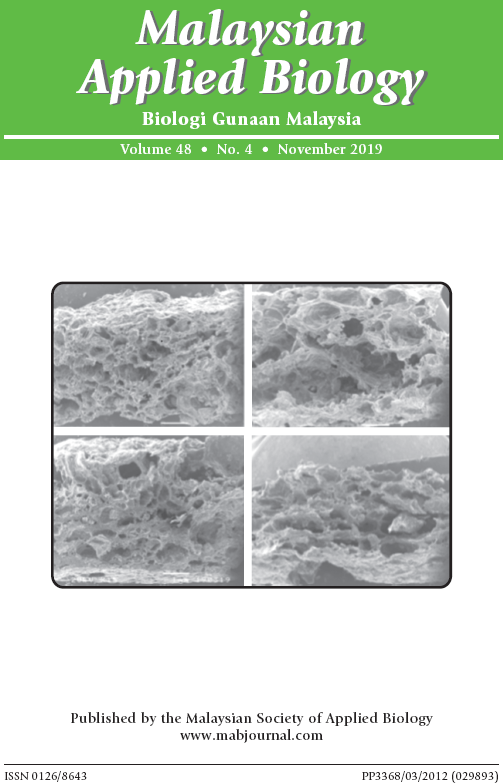 How to Cite
TANGPANITHANDEE, N. ., ON-NOM, N., & SRICHAMNONG, W. (2019). EFFECT OF VEGETABLE OIL BLENDING ON ACRYLAMIDE DURING POTATO DEEP-FRYING. Malaysian Applied Biology, 48(4), 47–51. Retrieved from https://jms.mabjournal.com/index.php/mab/article/view/1876
Section
Research Articles
Copyright & Licensing
Any reproduction of figures, tables and illustrations must obtain written permission from the Chief Editor (wicki@ukm.edu.my). No part of the journal may be reproduced without the editor's permission