REMOVAL OF CYANOTOXIN MICROCYSTIN-LR BY Lactobacillus plantarum
Keywords:
Cyanotoxin, microcystin-LR, Lactobacillus plantarum removal
Abstract
The natural water resources contaminate high levels of nutrients, especially nitrogen and phosphorus, which can stimulate algae to grow rapidly. Microcystis spp., Cylindrospermopsis spp. and Anabaena spp. are dominant species in water. However, those algae can produce harmful toxins, called microcystin LR (MC-LR) affecting human and animal health. Therefore, this research aimed to eliminate MC-LR by using lactic acid bacteria. Lactobacillus plantalum TISTR 854 (LP) was used in this experiment. The effects of glucose concentrations (0, 1 and 3% w/v), pH (4.0, 7.0, and 10.0), and temperatures (25, 30 and 35°C) on LP removal activity were studied. LP was cultured in Lactobacillus MRS medium, centrifuged, and re-suspended in phosphate buffered saline at different pH. Different glucose contents and MC-LR were then added into the cell solutions, before incubate at the mentioned temperatures for 24 hr. The concentrations of MC-LR were then analyzed by Protein Phosphatase Inhibition Assay. The results were expressed as %MC-LR removing. The result showed that LP could reduce MC-LR. The optimal condition for MC-LR was found 1% w/v glucose, pH 7.0, and incubation temperature at 35°C, showed 77±0.6% of MC-LR removal. The study indicated that LP can be used to remove microcystin from water.
Downloads
Download data is not yet available.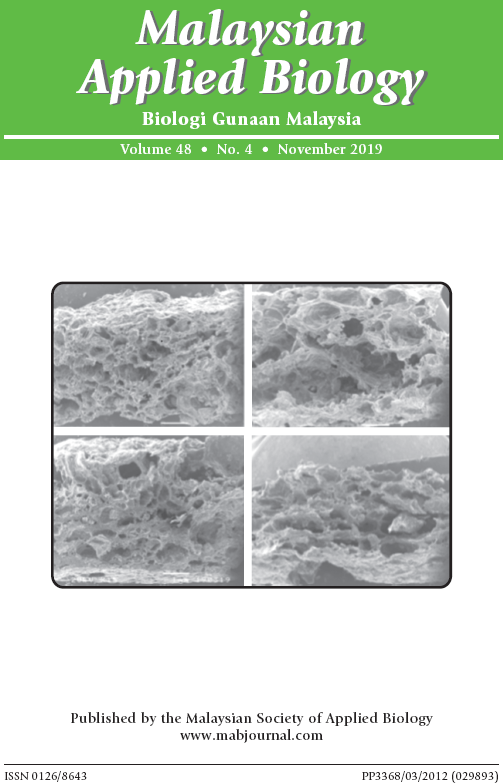 How to Cite
CHAOSUAN, N., PONGSWAT, S., & CHORUM, M. (2019). REMOVAL OF CYANOTOXIN MICROCYSTIN-LR BY Lactobacillus plantarum. Malaysian Applied Biology, 48(4), 75–82. Retrieved from https://jms.mabjournal.com/index.php/mab/article/view/1880
Section
Research Articles
Copyright & Licensing
Any reproduction of figures, tables and illustrations must obtain written permission from the Chief Editor (wicki@ukm.edu.my). No part of the journal may be reproduced without the editor's permission