AN ETHNOBOTANICAL STUDY ON INDIGENOUS FOOD FLAVOURINGS AND AROMATIC ENHANCING PLANTS USED BY THE NATIVE COMMUNITIES OF THE CENTRAL REGION OF SARAWAK
Keywords:
food seasoning, indigenous plants, native, Sarawak, traditional knowledge, fragrance crop
Abstract
The uses of indigenous plants vary amongst native communities, from being consumed as vegetables, used as flavourings or added as an aromatic enhancer. However, records of their traditional use are sparse and most of the native knowledge on applications of these indigenous plants has not been passed down to later generations. The present study aims to record and identify communal knowledge from the Central Region of Sarawak with regards to the use of indigenous plants as food flavourings or aromatic enhancers. Face-to-face interviews with 150 respondents were conducted in a semi-structured manner to obtain the required information. A total of 27 plant species from 20 families were identified for their use by native people as food flavouring or aromatic enhancement. Zingiberaceae was found to be the most prevalent family of plants in this study with a representation of four species. Leaves were the part of the plants most commonly utilized by natives for flavouring purposes with 12 species being utilized in this manner. The mode of cooking varies within the community according to a preference for taste and aroma intensity as well as inherited oral knowledge passed down from older generations. This study recommends a full nutrient content analysis for the identified plant species shortly.
Downloads
Download data is not yet available.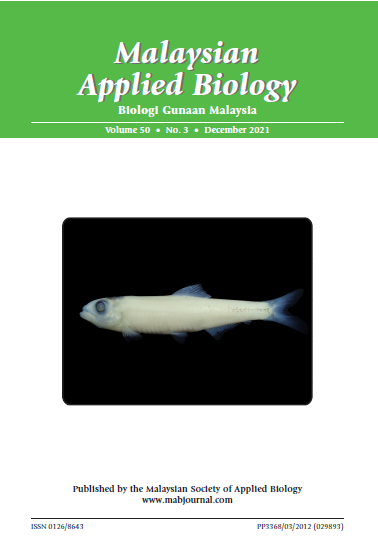 How to Cite
YUSLI, N. A. ., SAUPI, N., RAMAIYA, S. D., & LIRONG, Y. A. (2021). AN ETHNOBOTANICAL STUDY ON INDIGENOUS FOOD FLAVOURINGS AND AROMATIC ENHANCING PLANTS USED BY THE NATIVE COMMUNITIES OF THE CENTRAL REGION OF SARAWAK. Malaysian Applied Biology, 50(3), 105–115. https://doi.org/10.55230/mabjournal.v50i3.1989
Section
Research Articles
Copyright & Licensing
Any reproduction of figures, tables and illustrations must obtain written permission from the Chief Editor (wicki@ukm.edu.my). No part of the journal may be reproduced without the editor's permission