PHYSICOCHEMICAL PROFILES OF HONEY HARVESTED FROM FOUR MAJOR SPECIES OF STINGLESS BEE (KELULUT) IN NORTH EAST PENINSULAR OF MALAYSIA
Keywords:
Kelulut honey, physicochemical analysis, stingless bee honey, Geniotrigona thoracica, Heterotrigina itama, Lepidotrigona terminata, Tetragonula laeviceps
Abstract
Stingless bee honey is one of the high demand honey in Malaysia. However, honey characters particularly from different species is lacking in order to increase its commercial value. Thus, physicochemical profile analysis of honey harvested from four major species of stingless bee in Kelantan, Malaysia, Geniotrigona thoracica, Heterotrigina itama, Lepidotrigona terminate and Tetragonula laeviceps was conducted to investigate the honey character. Character of the stingless bee honey harvested from various species from the same geographic area was compared. The results were then compared to stingless bee honey from other countries. Most of physicochemical data of stingless bee honey from different species collected from Kelantan showed almost similar values. However, value of pH, free acidity and total acidity displayed significant different results. This indicates species of stingless bee may affect the results. In order to compare local stingless bee honey with international stingless bee honey, the data was represented as mean regardless of their species. From the results, moisture content was consistently high in stingless bee honey harvested from Malaysia, Thailand, Brazil and Venezuela while, other data showed different values. The results demonstrated that species of stingless bee particularly from other countries is crucial in order to
characterize the honey. However, Malaysian stingless bee honey has unique character based on physicochemical data. The data can be used as a marketing strategy in increasing commercial value of local stingless bee honey.
Downloads
Download data is not yet available.
References
Almeida-Muradian, L.B., Stramm, K.M., Horita, A., Barth, O.M., Freitas, A.D.S.D. & Estevinho, L.M. 2013. Comparative study of the physicochemical and palynological characteristics of honey from Melipona subnitida and Apis mellifera. International Journal of Food Science and Technology, 48: 1698-1706.
Bijlsma, L., de-Bruijn, L.L.M., Martens, E.P. & Sommeijer, M.J. 2006. Water content of stingless bee honeys (Apidae, Meliponini): interspecific variation and comparison with honey of Apis mellifera. Apidologie, 37(4): 480-486.
Chuttong, B., Chanbang, Y., Sringarm, K. & Burgett, M. 2016. Physicochemical profiles of stingless bee (Apidae: Meliponini) honey from South East Asia (Thailand). Journal of Food Chemistry, 192: 149-155.
CODEX Alimentarius Commission. 1987. Revised CODEX Standard for Honey CODEX Standards 12-1981. Rev. 1 (1987), Rev. 2 (2001). World Health Organisation (WHO), Rome. pp7.
Dimins, F., Kuka, P., Kuka, M. & Cakste, I. 2006. The criteria of honey quality and its changes during storage and thermal treatment. Latvijas Lauksaimniecibas Universitat Raksti, 16(311): 73-78.
Felsner, M.L., Cano, C.B., Matos, J.R., AlmeidaMuradian, L.B. & Bruns, R.E. 2004. Optimization of thermogravimetric analysis of ash content in honey. Journal of Brazil Chemical Society, 15(6): 797-802.
Finola, M.S., Lasagno, M.C. & Marioli, J.M. 2007. Microbiological and chemical characterization of honeys from central Argentina. Food Chemistry, 100(4): 1649-1653.
International Honey Commission. 2009. Harmonised Methods of the International Honey Commission. Swiss Bee Research Centre, Liebefeld, pp 63 .
Jaafar, M.F. 2012. Manual Teknologi Penternakan Lebah Kelulut. 1st ed. Malaysian Agricultural Research and Development Institute (MARDI), Serdang, pp 20 (Malay).
Khalil, M.I., Sulaiman, S.A. & Gan, S.H. 2010. High 5-hydroxymethylfurfural concentrations are found in Malaysian honey samples stored for more than one year. Journal of Food and Chemical Toxicology, 48(8-9): 2388-92.
LeBlanc, B.W., Eggleston, G., Sammataro, D., Cornett, C., Dufault, R., Deeby, T. & Cyr, E.S. 2009. Formation of hydroxymethylfurfural in domestic high-fructose corn syrup and its toxicity to the honey bee (Apis mellifera). Journal of Agricultural and Food Chemistry, 57: 7369-7376.
Moniruzzaman, M., Sulaiman, S.A., Khalil, M.I. & Gan, S.H. 2013. Evaluation of physicochemical and antioxidant properties of sourwood and other Malaysian honeys: a comparison with manuka honey. Chemistry Central Journal, 7(1): 138.
Oddo, L.P., Heard, T.A., Rodriguez-Malaver, A., Perez, R.A., Fernández-Muino, M. & Sancho, M.T. 2008. Composition and antioxidant activity of Trigona carbonaria honey from Australia. Journal of Medicinal Food, 11(4): 789-794.
Schade, J.E., Marsh, G.L. & Eckert, J.E. 1958. Diastase activity and hydroxymethylfurfural in honey and their usefulness in detecting heat adulteration. Food Research, 23: 446-463.
Souza, B., Roubik, D., Barth, O., Heard, T., Enriquez, E., Carvalho, C., Villas-Boas, J., Marchini, L., Locatelli, J., Persano-Oddo, L., AlmeidaMuradian, L.B., Bogdanov, S. & Vit, P. 2006. Composition of stingless bee honey: setting quality standards. Interciencia, 31(12): 867-875.
Vit, P., Medina, M. & Enríquez, M.E. 2004. Quality standards for medicinal uses of Meliponinae honey in Guatemala, Mexico and Venezuela. Bee World, 85(1): 2-5.
White, J.W. 1979. Spectrophotometric method for hydroxymethylfurfural in honey. Journal of Association of Official Analytical Chemists, 62(3): 509-14.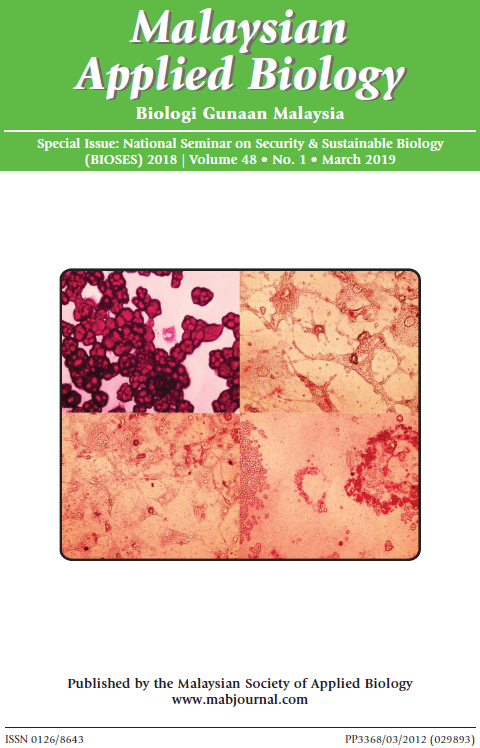 How to Cite
OMAR, S. ., ENCHANG, F. K. ., AHMAD NAZRI, M. U. I. ., ISMAIL, M. M. ., & WAN ISMAIL, W. I. . (2019). PHYSICOCHEMICAL PROFILES OF HONEY HARVESTED FROM FOUR MAJOR SPECIES OF STINGLESS BEE (KELULUT) IN NORTH EAST PENINSULAR OF MALAYSIA. Malaysian Applied Biology, 48(1), 111–116. Retrieved from https://jms.mabjournal.com/index.php/mab/article/view/2300
Section
Research Articles
Copyright & Licensing
Any reproduction of figures, tables and illustrations must obtain written permission from the Chief Editor (wicki@ukm.edu.my). No part of the journal may be reproduced without the editor's permission