AN INSIGHT ON THE FLORA SPECIES AND MEIOFAUNA DISTRIBUTION AT PANTAI KELANANG MANGROVE FOREST, MORIB, SELANGOR
Keywords:
Avicennia, sonneratia, nematoda, copepoda, oligochaetea, polychaetea
Abstract
Mangrove forest at Pantai Kelanang was famous for its diverse marine wildlife and various density of flora and meiofauna distributed at Morib shorelines. Moreover, the diverse marine wildlife, variation of flora and meiofauna distribution at Kelanang mangrove area has never been documented. Kelanang mangrove forest is also surrounded within heavy industrial activity zoning along the Malacca Straits. The objective of this study is to determine the diversity and distribution density of the mangrove flora and meiofauna at different intertidal zones influenced by prolonged human activities. Block sampling technique with quadrat analysis was used in this study. There are two major plants species belonging to Avicennia and Sonneratia families that have been discovered, where the average diameter at breast height was recorded between 3.3 to 32 cm and the average height ranged between 2.0 to 14.5 m. Whereas, Nematoda was found to be the largest distributed meiofauna compared to other meiofauna taxa such as Harpacticoida, Copepoda, Oligochaetea and Polychaetea. Flora species at Kelanang mangrove forest are less diverse at different intertidal zones and the meiofauna diversity were less at the mid- and high-intertidal zones. This finding may be a direct consequence of the influence of heavy industrial activities along the Malacca Straits.
Downloads
Download data is not yet available.
References
Abdullah, M.M. & Lee, S.Y. 2017. Structure of mangrove meiofaunal assemblages associated with local sediment conditions in subtropical eastern Australia. Estuarine, Coastal and Shelf Sciences, 198(5): 438-449
Ashton, E.C. & Macintosh, D.J. 2002. Preliminary assessment of the plant diversity and community ecology of the Semantan mangrove forest, Sarawak, Malaysia. Forest Ecology and Management, 166(1): 111-129
Cox, G. 1990. Laboratory Manual of General Ecology. 6th Edition. Dubuque, Iowa: William C. Brown.
Delgado-sanchez, P. 2001. Factors Affecting Community Structure of Mangrove Associated With Point Bars and Islands in a CostaRican Estuary. LSU Historical Dissertation and Theses, 276.
Dodd, M. 2011. Where are my quadrats? Positional accuracy in field work. Methods in Ecology and Evolution, 2: 576-584.
Duke, N.C. 1995. Genetic diversity, distributional barriers and rafting continents – more thoughts on the evolution of mangroves. Hydrobiologia, 295(1-3): 167-181.
Ecological Society of America 2018. Mangrove to mudflats and not back again. Science Daily . www.sciencedaily.com/releases/2018/07/180716114613.htm.
El-Serehy, H.A., Al-Rasheid, K.A., Al-Misned, F.A., Al-Talasat, A.A.R. & Gewik, M.M. 2016. Microbial-meiofaunal interrelationships in coastal sediments of the Red Sea. Saudi Journal of Biological Sciences, 23(3): 327-334.
Giere, O. 2009. Meiobenthology: The microscopic motile fauna of aquatic sediments.
Giri, C., Zhu, Z., Tieszen, L.L., Singh. A., Gillette, S. & Kelmelis, J.A. 2008. Mangrove forest distributions and dynamics (1975–2005) of the tsunami affected region of Asia. Journal of Biogeography, 3(35): 519-528
Grigore, M.N., Ivanescu, L. & Toma, C. 2014. Halophytes: An Integrative Anatomical Study, Springer.
Hasanuzzaman, M., Nahar, K., Alam, M.M., Bhowmik, P.C., Hossain, M.A., Rahman, M.M. & Fujita, M. 2014. Potential use of halophytes to remediate saline soils. BioMed Research International, 2014.
Macarthur, R.H. 1965. Patterns of species diversity. Biological Reviews, 40(4): 510-533.
Mirto, S., Rosa, T.L.A., Mocciaro, G. & Costa, K. 2014. Meiofauna and benthic microbial biomass in a semi-enclosed Mediterranean Marine system (Stagnone of Marsala, Italy). Chemistry and Ecology, 20(1): 387-396.
Pan, B.Z., Wang, Z.Y., Ying, C., Xu, M.Z., Li, Z.W. & Huang, G.B. 2013. Meiofaunal Assemblages in Relation to Properties of Fluid Mud in River Estuaries. Fresenius Environmental Bulletin, 22(1): 67-73.
Rivera, R.R., Mino, S.A., Lapinig, V.T. & Freitas, I. 2017. Population diversity of mangrove species in pangul Bay, Philippines. Journal of Higher Education Research Disciplines, 1(1): 9-14.
Rosa, L.C. & Bemvenuti, C.E. 2005. Meiofauna in the soft-bottom habitats of the Patos Lagoon estuary (south Brazil). Acta Limnologica Brasiliensia, 17(2): 115-122.
Sasekumar, A. 1994. Meiofauna of a mangrove shore on the west coast of peninsular Malaysia. Raffles Bulletin of Zoology, 42(4): 901-915.
Sasekumar, A. & Loi, J.J. 1983. Litter production in three mangrove forest zones in the Malay Peninsula. Aquatic Botany, 17(2): 283-290.
Uhlig, G., Thiel, H. & Gray, J.S. 1973. The quantitative separation of eiofauna – A comparison of methods. Helgonder Wissenschaftliche Meeresuntersuchungen, 25(1): 173-195.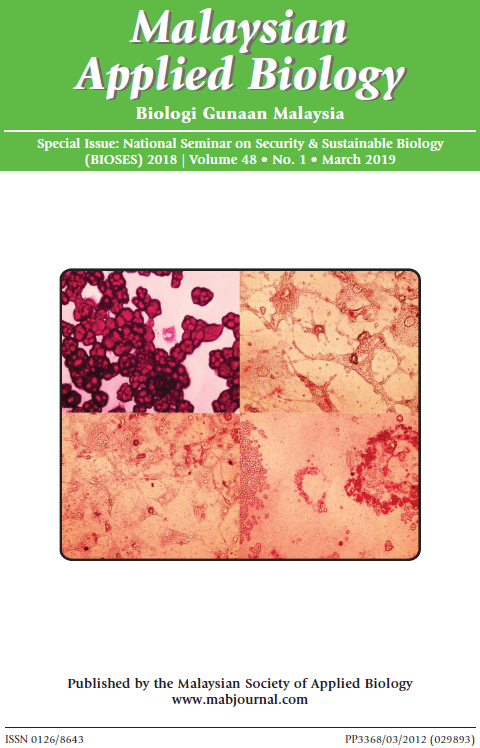 How to Cite
MOHD GHAZALY, M. ., M. ABDULLAH, M. ., MOHD RADIF, N. S. A. ., GHAZALI, Y. S., TAJUDDIN, S. F. ., AHMAD PAUZI, N. H. ., & MOHD RAZALI, R. . (2019). AN INSIGHT ON THE FLORA SPECIES AND MEIOFAUNA DISTRIBUTION AT PANTAI KELANANG MANGROVE FOREST, MORIB, SELANGOR. Malaysian Applied Biology, 48(1), 215–220. Retrieved from https://jms.mabjournal.com/index.php/mab/article/view/2319
Section
Research Articles
Copyright & Licensing
Any reproduction of figures, tables and illustrations must obtain written permission from the Chief Editor (wicki@ukm.edu.my). No part of the journal may be reproduced without the editor's permission