CHARACTERISATION OF ENDOPHYTIC BACTERIA FROM NAM-NAM PLANTS (Cynometra cauliflora) FOR ANTIBACTERIAL ACTIVITY AND PRODUCTION OF PLANT GROWTH PROMOTING FACTORS
Keywords:
Nam-Nam plants, Cynometra cauliflora, antimicrobial activity, indole-3-acetic acid
Abstract
Plant-beneficial microorganisms also known as endophytes colonize the inside healthy tissues of living plants and form mutualistic relationships with them. Endophytes are important components of the plant microbiome and give a variety of benefits to their hosts. Nam-Nam plant (Cynometra cauliflora), is an indigenous tree to Peninsular Malaysia with various medicinal properties. This study aimed to isolate and characterize endophytic bacteria from different parts of Nam-Nam plants such as leaves, stems, and roots. The ethyl acetate extracts from the endophytic bacteria were tested for their antibacterial activity against 7 bacterial pathogens. Plant growth promotion traits including starch hydrolysis, phosphate solubilization, nitrogen fixation, and indole-3 acetic acid (IAA) production were screened among the endophytic bacteria isolates. Molecular identification by 16S rRNA gene sequencing was performed for isolates with good antibacterial activity and plant growth promotion traits. A total of 33 endophytic bacteria comprising 27 Gram-negative and 6 Gram-positive bacteria were isolated. The antibacterial activity was demonstrated by 7 isolates in which R1L3 and TKL2 extracts exhibited significant activity against Bacillus cereus, Escherichia coli, and Proteus vulgaris. Production of IAA was exhibited by 15 isolates wherein R1S4 produced the highest IAA (20.62 µg/mL). Analysis of the 16S gene sequence revealed that RIR2, TKS2/R1L3, and R1S4/R1S5 belonged to Methylobacterium radiotolerans, Mycobacteroides abscessus, and Sphingomonas sp, respectively. The findings from this study showed that Nam-Nam plants harbored endophytic isolates with the potential to be established as a source of natural compounds that can be used to develop new anti-infection agents in the future. This is the first study to report on antibacterial activity and IAA production by endophytic bacteria from the Nam-Nam plants.
Downloads
Download data is not yet available.
References
Afzal, I., Khan, Z.S., Sikandar, S. & Shahzad, S. 2019. Plant beneficial endophytic bacteria: Mechanisms, diversity, host range and genetic determinants. Microbiological Research, 221: 36–49. DOI: https://doi.org/10.1016/j.micres.2019.02.001
Akinsanya, M.A., Goh, J.K., Lim, S.P. & Ting, A.S.Y. 2015. Diversity, antimicrobial and antioxidant activities of culturable bacterial endophyte communities in Aloe vera. FEMS Microbiology Letters, 362(23): 1–8. DOI: https://doi.org/10.1093/femsle/fnv184
Aleynova, O.A., Nityagovsky, N.N. & Kiselev, K.V. 2021. Biodiversity of endophytic bacteria and fungi of wild grapes Vitis amurensis Rupr. BIO Web of Conferences, 39: 1-8. DOI: https://doi.org/10.1051/bioconf/20213905001
Asaf, S., Khan, M.A., Khan, A.L., Waqas, M., Shahzad, R., Kim, A.Y., Kang, S.M. & Lee, I.J. 2017. Bacterial endophytes from arid land plants regulate endogenous hormone content and promote growth in crop plants: An example of Sphingomonas sp. and Serratia marcescens. Journal of Plant Interactions, 12(1): 31–38. DOI: https://doi.org/10.1080/17429145.2016.1274060
Aziz, A., Farina, A. & Iqbal, M. 2013. Antioxidant activity and phytochemical composition of Cynometra cauliflora. Journal of Experimental and Integrative Medicine, 3(4): 337–341. DOI: https://doi.org/10.5455/jeim.250813.or.086
Bambharolia, R.P., Khunt, M.D., Deshmukh, A.J., Prajapati, V.P. & Vavdiya, P.A. 2020. Isolation, screening and characterization of endophytic bacteria from root of finger millet (Eleusine coracana (L.) for different plant growth promotion (PGP) activities: An in-vitro study. Journal of Pharmacognosy and Phytochemistry, 9(5): 539-545
Darkazanli, M. & Kiseleva, C.I. 2020. The effects of inoculation beans by endophytic bacteria Methylobacterium sp., and Bacillus subtilis. Актуальные вопросы органической химии и биотехнологии. Екатеринбург, 2020: 525-527.
de Oliveira Costa, L.E., Correa, T.L.R., Teixeira, J.A., de Araujo, E.F. & de Queiroz, M.V. 2018. Endophytic bacteria isolated from Phaseolus vulgaris produce phytases with potential for biotechnology application. Brazilian Journal of Biological Sciences, 5(11): 657–671. DOI: https://doi.org/10.21472/bjbs.051105
Eid, A.M., Fouda, A., Abdel‐Rahman, M.A., Salem, S.S., Elsaied, A., Oelmüller, R., Hijri, M., Bhowmik, A., Elkelish, A. & Hassan, S.E.D. 2021. Harnessing Bacterial Endophytes for Promotion of Plant Growth and Biotechnological Applications: An Overview. Plants, 10(5): 935. DOI: https://doi.org/10.3390/plants10050935
Fang, J.Y. & Hsu, Y.R. 2012. Molecular identification and antibiotic control of endophytic bacterial contaminants from micropropagated Aglaonema cultures. Plant Cell, Tissue and Organ Culture, 110: 53–62. DOI: https://doi.org/10.1007/s11240-012-0129-6
Gagne-Bourne, F., Aliferis, K.A., Seguin, P., Rani, M., Samson, R. & Jabaji, S. 2013. Isolation and characterization of indigenous endophytic bacteria associated with leaves of switchgrass (Panicum virgatum L.) cultivars. Journal of Applied Microbiology, 114(3): 1–18. DOI: https://doi.org/10.1111/jam.12088
Gupta, R.M., Kale, P.S., Rathi, M.L. & Jadhav, N.N. 2015. Isolation, characterization and identification of endophytic bacteria by 16S rRNA partial sequencing technique from roots and leaves of Prosopis cineraria plant. Asian Journal of Plant Science and Research, 5(6): 36–43.
Khan, A.L., Halo, B.A., Elyassi A., Ali, S., Al-Hosni, K., Hussain, J., Al-Harrasi, A. & Lee, I-J. 2016. Indole acetic acid and ACC deaminase from endophytic bacteria improves the growth of Solanum lycopersicum. Electronic Journal of Biotechnology, S0717345816000245. DOI: https://doi.org/10.1016/j.ejbt.2016.02.001
Lockard, C.A., Ahmad, Z., Ooi, J.B. & Leinbach, T.R. 2021. Plant and animal life. In Encyclopaedia Britannica. Retrieved from https://www.britannica.com/place/Malaysia (accessed 25.08.2021)
Minotto E., Milagre L.P., Oliveira M.T. & Van Der Sand S.T. 2014. Enzyme characterization of endophytic actinobacteria isolated from tomato plants. Journal of Advanced Scientific Research, 5(2): 16-23.
Ong, C.W., Chan, Y.S., Khoo, K.S., Ong, H.C. & Sit, N.W. 2018. Antifungal and cytotoxic activities of extracts obtained from underutilised edible tropical fruits. Asian Pacific Journal of Tropical Biomedicine, 8(6): 313–319. DOI: https://doi.org/10.4103/2221-1691.235326
Partida-Martinez, L. & Heil, M. 2011. The microbe-free plant: Fact or artifact? Frontiers in Plant Science, 2: Article 100. DOI: https://doi.org/10.3389/fpls.2011.00100
Rabeta, M.S. & Faraniza, N. R. 2013. Total phenolic content and ferric reducing antioxidant power of the leaves and fruits of Garcinia atrovirdis and Cynometra cauliflora. International Food Research Journal, 20(4): 1691–1696.
Reay, D.S., Davidson, E.A., Smith, K.A., Smith, P., Melillo, J.M., Dentener, F. & Crutzen, P.J. 2012. Global agriculture and nitrous oxide emissions. Nature Climate Change, 2(6): 410–416. https://doi.org/10.1038/NCLIMATE1458 DOI: https://doi.org/10.1038/nclimate1458
Ryan, R.P., Germaine, K., Franks, A., Ryan, D.J. & Dowling, D.N. 2008. Bacterial endophytes: Recent developments and applications. FEMS Microbiology Letters, 278(1): 1–9. DOI: https://doi.org/10.1111/j.1574-6968.2007.00918.x
Senthilkumar, M., Anandham, R., Madhaiyan, M., Venkateswaran, V. & Sa, T. 2011. Endophytic bacteria: Perspectives and applications in agricultural crop production. In: Bacteria in Agrobiology: Crop Ecosystems. D.K. Maheshwari (Ed.). Springer-Verlag, Berlin, Heidelberg. pp. 61–96. DOI: https://doi.org/10.1007/978-3-642-18357-7_3
Tajudin, T-J.S.A., Mat, N., Abu Bakar, S-A., Yusran, A.A.M., Alwi, A. & Ali, A.M. 2012. Cytotoxicity, antiploriferative effects, and apoptosis induction of methanolic extract of Cynometra cauliflora Linn. whole fruit on human promyelocytic leukemia HL-60 Cells. Evidence-Based Complimentary and Alternative Medicine, 2012: Article ID 127373. DOI: https://doi.org/10.1155/2012/127373
Tashi-Oshnoei, F., Harighi, B., & Abdollazadeh, J. 2017. Isolation and identification of endophytic bacteria with plant growth promoting and biocontrol potential from oak trees. Forest Pathology, 47(5): e12360. DOI: https://doi.org/10.1111/efp.12360
Xu, W., Wang, F., Zhang, M., Ou, T., Wang, R. & Strobel, G. 2019. Diversity of cultivable endophytic bacteria in mulberry and their potential for antimicrobial and plant growth-promoting activities. Microbiological Research, 229: 126328. DOI: https://doi.org/10.1016/j.micres.2019.126328
Yuan, M., He, H., Xiao, L., Zhong, T., Liu, H., Li, S., Deng, P., Ye, Z. & Jing Y. 2014. Enhancement of Cd phytoextraction by two Amaranthus species with endophytic Rahnella sp . JN27. Chemosphere, 103: 99–104. DOI: https://doi.org/10.1016/j.chemosphere.2013.11.040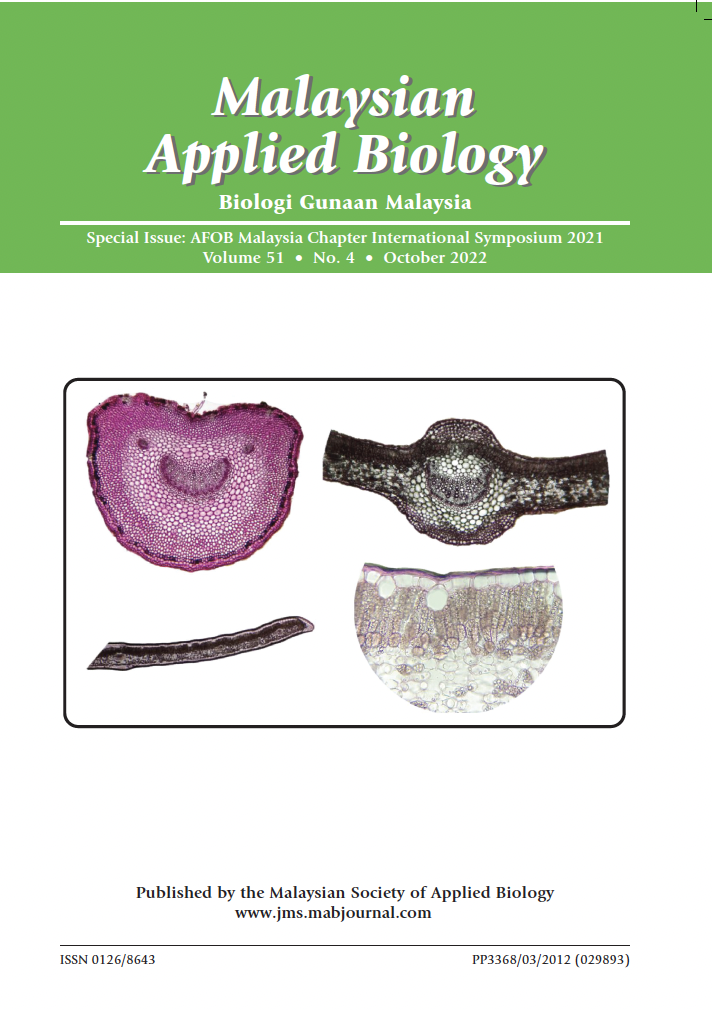 How to Cite
KHALIL, R. A. ., SYED MOHAMAD, S. A., ABDUL RAHMAN, N. R. H. ., KAMAL IKHSAN, N. A. ., MOHAMED YUNUS, N. ., AJIBOLA, O. O., ABD MUTALIB, N. ., & BIN MOHD AMIN, M. C. I. . (2022). CHARACTERISATION OF ENDOPHYTIC BACTERIA FROM NAM-NAM PLANTS (Cynometra cauliflora) FOR ANTIBACTERIAL ACTIVITY AND PRODUCTION OF PLANT GROWTH PROMOTING FACTORS. Malaysian Applied Biology, 51(4), 119–126. https://doi.org/10.55230/mabjournal.v51i4.19
Section
Research Articles
Copyright & Licensing
Any reproduction of figures, tables and illustrations must obtain written permission from the Chief Editor (wicki@ukm.edu.my). No part of the journal may be reproduced without the editor's permission