MALAYSIAN HERBS IN SKIN AGING AND HYPERPIGMENTATION
Keywords:
Aging, herbs, hyperpigmentation, Malaysia
Abstract
In the beauty and wellness industries, the association between herbs, skin aging, hyperpigmentation, and cosmeceuticals is gaining significance. The process of skin aging occurs in the epidermal and dermal layers and is primarily associated with the deterioration of the extracellular matrix (ECM). Deterioration of ECM can be due to increased matrix metalloproteinases (MMPs) or decreased transforming growth factor-β (TGF-β). Along with some pigment defects such as hypo or hyperpigmentation, this process can cause skin wrinkles, roughness, and dryness. There is a need to slow down the ECM degradation and inhibition of melanin formation. Herbs have a high potential due to their various biologically active compounds. Malaysia is one of the countries rich in tropical rainforests with its traditional medicinal herbs. However, the use of Malaysian herbs in skin aging and hyperpigmentation is still limited. Thus, this review focuses on selected Malaysian herbs that are traditionally used for various purposes and have potential as anti-aging and anti-hyperpigmentation properties. The information contained in the present review indicates that selected Malaysian herbs can be used in the treatment of skin aging and hyperpigmentation and will assist the cosmetics sectors in the development of herbal anti-aging and antihyperpigmentation formulations.
Downloads
Download data is not yet available.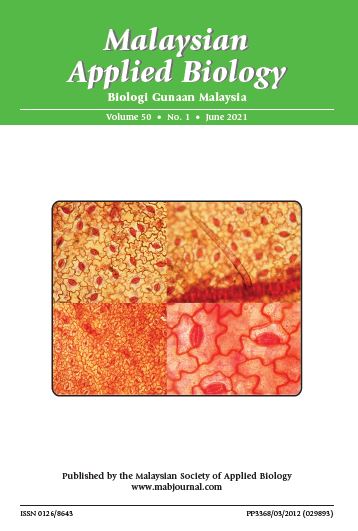 How to Cite
TUAN ISMAIL, T. N. N. ., SHAHIDAN, W. N. S. ., & PONNURAJ, K. T. . (2021). MALAYSIAN HERBS IN SKIN AGING AND HYPERPIGMENTATION. Malaysian Applied Biology, 50(1), 1–9. https://doi.org/10.55230/mabjournal.v50i1.8
Copyright & Licensing
Any reproduction of figures, tables and illustrations must obtain written permission from the Chief Editor (wicki@ukm.edu.my). No part of the journal may be reproduced without the editor's permission