ANTIMICROBIAL ACTIVITY OF PROPOLIS FROM Trigona thoracica TOWARDS CARIOGENIC BACTERIA
Keywords:
Propolis, Trigona thoracica, Streptococcus mutans, Streptococcus sobrinus, minimum inhibitory concentration
Abstract
Propolis is an important bee product which consists of resinous mixture produce by the honeybees from various plant sources. Propolis produced by stingless bee (Trigona thoracica), commonly known as 'Kelulut' in Malaysia, is also known to have medicinal values. The Trigona thoracica bees are widely distributed throughout Malaysia. The properties of propolis from Trigona thoracica have been investigated in vitro and in vivo. It is renowned to have various biological activities as the antimicrobial, antiproliferative, antiinflammatory and anticancer. Currently, there is limited scientific studies that show antimicrobial activities of propolis against the oral pathogens. Thus, this study is carried out to evaluate the antimicrobial activities of ethanol extracts of propolis (EEP) from Trigona thoracica against cariogenic bacteria (S. mutans & S. sobrinus). This study is performed using the agar well diffusion assay to screen the antimicrobial activity of EEP from Trigona thoracica expressed as mean of inhibition diameter and minimum inhibitory concentration (MIC) of EEP will be determined by the broth microdilution method. The mean of inhibition diameter and MIC between EEP and standard antibiotic (metronidazole) against S. mutans and S. sobrinus is not statistically different. In conclusion, EEP from Trigona thoracica has antimicrobial properties against cariogenic bacteria.
Downloads
Download data is not yet available.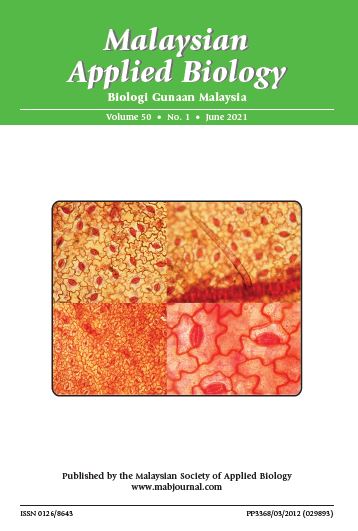 How to Cite
TUAN ISMAIL, T. N. N. ., CHOO WEE, N. S., SHAFII, N., KASSIM, N., SHAHIDAN, W. N. S. ., & IBRAHIM, H. A. . (2021). ANTIMICROBIAL ACTIVITY OF PROPOLIS FROM Trigona thoracica TOWARDS CARIOGENIC BACTERIA. Malaysian Applied Biology, 50(1), 65–71. https://doi.org/10.55230/mabjournal.v50i1.13
Section
Research Articles
Copyright & Licensing
Any reproduction of figures, tables and illustrations must obtain written permission from the Chief Editor (wicki@ukm.edu.my). No part of the journal may be reproduced without the editor's permission