IDENTIFICATION AND CHARACTERIZATION OF YEAST ISOLATES FROM MAPRANG (Bouea macrophylla Griffith) GROWING IN VIETNAM
Keywords:
Characterisation, yeast identification, maprang, yeast strain, wine production, 28S rRNA analysis
Abstract
Fifteen yeast strains isolated from maprang (Bouea macrophylla Griffith) were characterised using standard microbiological procedures. The species were identified belonging to three genera Saccharomyces, Hanseniaspora and Pichia and their abilities for wine production were tested by analysing the alcohol produced and remaining sugar. The best biochemically active strain was used along with commercial yeast (S. cerevisiae) to produce wine from maprang juice. Fermenting activity of isolated yeasts was higher than commercial yeast. The isolated yeast strain namely 3.5B and 5.5A showed the best fermenting activity such as fast fermentation by Durham test and highest alcohol percentage (11.5 and 11.83% v/v). Based on the 28S rRNA sequences, yeast strain 5.5A and 3.5B showed 99% similarity to S. cerevisiae (KP723678.1 and KF728774.1, respectively). Using isolated yeast strain 5.5A for wine fermentation at pH 4.0, total soluble solid content 24% and inoculated with yeast density of 107 cells/mL, the alcohol content produced was 14.5% v/v and the wine had favorable color and flavor. Our work constitutes a foundation for strain selection for future applications as starter cultures in fruit wine fermentations. This work is the first ever on yeast diversity from maprang which is the special fruit of Vinh Long province, Vietnam.
Downloads
Download data is not yet available.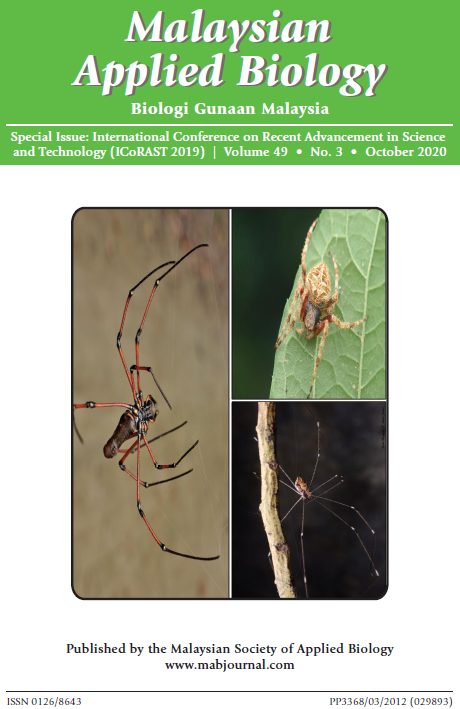 How to Cite
TAI, N. V. ., & THANH, N. V. . (2020). IDENTIFICATION AND CHARACTERIZATION OF YEAST ISOLATES FROM MAPRANG (Bouea macrophylla Griffith) GROWING IN VIETNAM. Malaysian Applied Biology, 49(3), 23–30. https://doi.org/10.55230/mabjournal.v49i3.1537
Section
Research Articles
Copyright & Licensing
Any reproduction of figures, tables and illustrations must obtain written permission from the Chief Editor (wicki@ukm.edu.my). No part of the journal may be reproduced without the editor's permission