Trichoderma atroviride ISOLATED FROM MANGROVES OF THE EAST COAST OF PENINSULAR MALAYSIA EXHIBITED HIGH TOLERANCE AGAINST HEAVY METAL CADMIUM
Keywords:
Mangrove fungus, east coast Peninsular Malaysia Trichoderma atroviride, tolerance, cadmium
Abstract
The toxicity of the heavy metal cadmium to organisms is known, with differing tolerance in different organisms. The ability of fungi to survive in sites polluted with heavy metals has led to its mechanism of heavy metal tolerance being widely investigated. However, little work has addressed cadmium tolerance in fungi isolated from mangroves, the heavy metal basin. Therefore, this study was carried out to isolate fungi and investigate their tolerance towards cadmium. Samples used were obtained from the mangroves in the east coast of Peninsular Malaysia. Aquatic fungal isolates were selected for cadmium- tolerance screening, in the range of 0 to 0.5 mM. The identification of the most tolerant fungus was confirmed using the molecular approach and used further to study its tolerance in higher concentrations of cadmium. A total of 25 fungi was isolated and seven isolates were classified as aquatic fungi. Trichoderma sp. was shown to be the most tolerant towards cadmium. The sequencing result of the amplified fungal gene confirmed its identity as Trichoderma atroviride. Further tolerance test showed that the fungus survived in 3.0 mM, the highest concentration tested, although at a slower growth rate and with affected sporulation. These results can be the baseline data for further investigations on the mechanism of cadmium detoxification in T. atroviride, thus enhancing its potential as a heavy metal bioremediator.
Downloads
Download data is not yet available.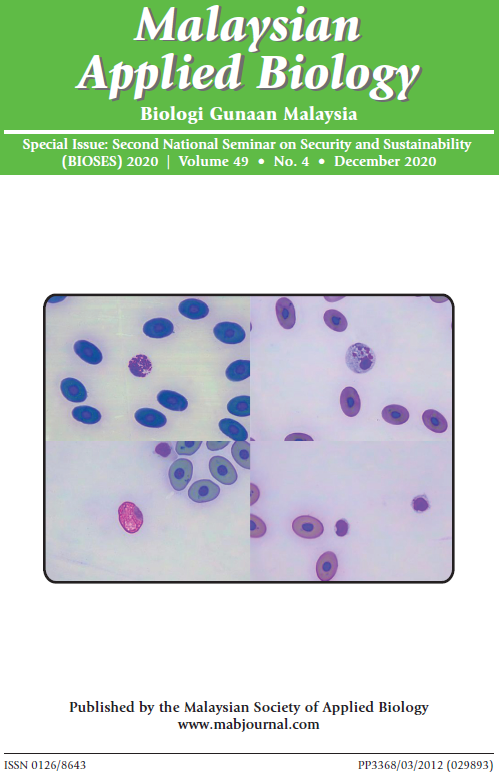 How to Cite
JAMALI, S. A. M., BADALUDDIN, N. A. ., BAHARUM, S. N., SALIM, J. M. ., AHMAD, A. ., & TAIB, M. (2020). Trichoderma atroviride ISOLATED FROM MANGROVES OF THE EAST COAST OF PENINSULAR MALAYSIA EXHIBITED HIGH TOLERANCE AGAINST HEAVY METAL CADMIUM. Malaysian Applied Biology, 49(4), 113–120. https://doi.org/10.55230/mabjournal.v49i4.1600
Section
Research Articles
Copyright & Licensing
Any reproduction of figures, tables and illustrations must obtain written permission from the Chief Editor (wicki@ukm.edu.my). No part of the journal may be reproduced without the editor's permission