PHYTIC ACID CONTENT AND DIGESTIBILITY OF COCONUT RESIDUES DERIVED-PROTEINS AFTER SOLID-STATE FERMENTATION BY Aspergillus awamori
Keywords:
Fish feed, protein, phytic acid, in vitro protein digestibility
Abstract
The growing industry of aquaculture is in demand of alternative protein sources as fish feeds. An adequate amount of digestible protein and the presence of anti-nutritional such as phytic acid factors are limiting factors in feed formulations. One alternative source of protein for fish feeds is fermented coconut residues. However, the phytic acid content, an anti-nutrient compound produced during the bioconversion or fermentation process of agriculture waste has not yet been determined. Therefore, the objective of the present study was to determine the phytic acid content and protein digestibility of coconut residues after solid-state fermentation (SSF) by Aspergillus awamori. Samples from three optimized fermentation conditions were analyzed for soluble proteins, phytic acid contents, and in-vitro digestibility activity by trypsin and pepsin. Results showed that phytic acid content in all samples were lower than 0.1 mg/g dry wt. of the sample after seven days of fermentation. The protein digestibility by trypsin (ranging from 36.54 ± 4.22 to 43.22 ± 2.46%) was higher than pepsin, where it fell within the percentage required for fish feed formulation. The findings suggested that fermented coconut residues are a highly potential alternative source of protein for fish feed formulation.
Downloads
Download data is not yet available.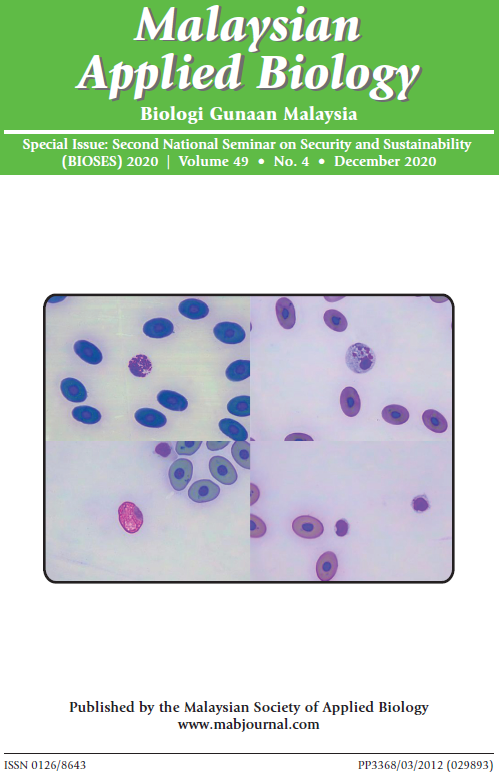 How to Cite
MOHD-RAZALI, A. ., MORNI, M. M. ., TAIB, M., & AHMAD, A. . (2020). PHYTIC ACID CONTENT AND DIGESTIBILITY OF COCONUT RESIDUES DERIVED-PROTEINS AFTER SOLID-STATE FERMENTATION BY Aspergillus awamori. Malaysian Applied Biology, 49(4), 121–126. https://doi.org/10.55230/mabjournal.v49i4.1601
Section
Research Articles
Copyright & Licensing
Any reproduction of figures, tables and illustrations must obtain written permission from the Chief Editor (wicki@ukm.edu.my). No part of the journal may be reproduced without the editor's permission