ANTIFUNGAL PROPERTIES OF WATER EXTRACT PROPOLIS COATING AGAINST ANTHRACNOSE (Colletotrichum gloeosporioides) DISEASE ON STRAWBERRY (Fragaria anannassa)
Keywords:
Propolis, stingless bee, antifungal, anthracnose, strawberry, post-harvest quality
Abstract
Anthracnose is a major pre and post-harvest disease. Due to the consumer concerns of the residual effect of the synthetic fungicide, biocontrol from a natural source is highly required by the consumer to reduce the problem. Propolis is a natural antifungal that can be used as a coating to control fruit quality and postharvest losses. This study evaluated the physical and chemical characteristics of strawberry (Fragaria ananassa) induced with Colletotrichum gloeosporioides, coated with water extract propolis (WEP) and stored at 5°C. The effect of coating was evaluated with different concentrations of water extract propolis (WEP) which were control, 10%, 12%, and 14%. The post-harvest parameters such as weight loss, total soluble solids (TSS), anthocyanin, disease severity index (DSI), and firmness were evaluated at two days interval for 12 days of storage. The highest percentage of inhibition (in vitro) was shown by the highest concentration of WEP (14%). Fruits coated with propolis showed reduced deterioration and infection diameter of fungus, as compared to the control (without coating) which already spoiled at day 4. Strawberry coated with 14% concentration of WEP also showed the highest firmness compared to other treatments. Thus, this coating can be used as an alternative method for bio-control of disease to reduce the post- harvest loss of fresh produce.
Downloads
Download data is not yet available.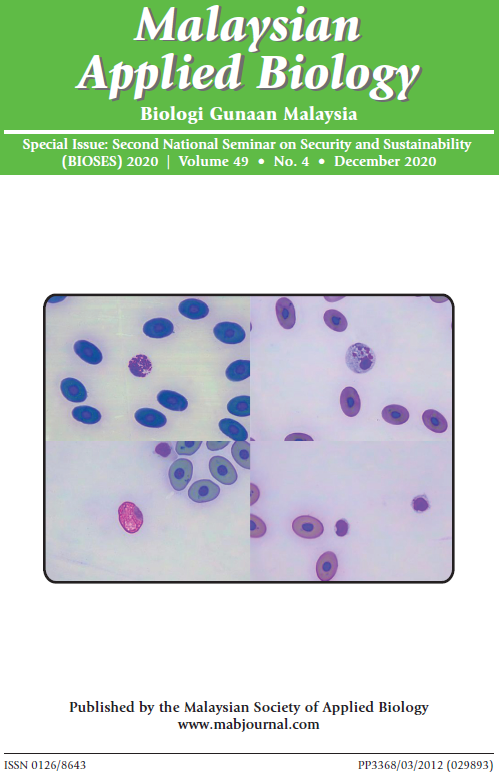 How to Cite
OMAR, N. A. ., SIDIQUE , S. N. M., & AHMAD, F. T. . (2020). ANTIFUNGAL PROPERTIES OF WATER EXTRACT PROPOLIS COATING AGAINST ANTHRACNOSE (Colletotrichum gloeosporioides) DISEASE ON STRAWBERRY (Fragaria anannassa). Malaysian Applied Biology, 49(4), 253–260. https://doi.org/10.55230/mabjournal.v49i4.1629
Section
Research Articles
Copyright & Licensing
Any reproduction of figures, tables and illustrations must obtain written permission from the Chief Editor (wicki@ukm.edu.my). No part of the journal may be reproduced without the editor's permission