TOTAL PHENOLIC CONTENT AND ANTIOXIDANT ACTIVITIES OF DATE FRUIT EXTRACTS
Keywords:
dates, total phenolic content, antioxidant activity
Abstract
Dates (Phoenix dactylifera L.) are nutrient-rich fruit consumed worldwide in a raw form or processed value-added products such as paste, syrup and energy bars. Dates are considered as functional food or ingredient due to its nutrients which derived from carbohydrate, lipids, protein, vitamin, mineral and phytochemical compounds, contributing to their potential antioxidant activities. However, the antioxidant properties of dates found in the local market are not widely available in the scientific literature, thus merits investigation. The objective of this study is to determine the total phenol content (TPC) and antioxidant activities (DPPH scavenging activity, oxygen radical absorbance capacity (ORAC) and ferric reducing antioxidant power (FRAP)) of five dates varieties namely Khalas, Deglet Noor, Lulu, Khenaizi and Medjool. The results showed TPC, ORAC and FRAP values for Lulu and Khenaizi were significantly (p<0.05) higher than Khalas, Deglet Noor and Medjool. Meanwhile, Deglet Noor, Lulu and Khenaizi significantly (p<0.05) possessed greater DPPH scavenging activities as compared to Khalas and Medjool. There was a significant (p<0.05) correlation (r) between the TPC and ORAC (r=0.952) and FRAP (r=0.987) suggesting that phenolic compounds may contribute to the overall antioxidant activity of the dates.
Downloads
Download data is not yet available.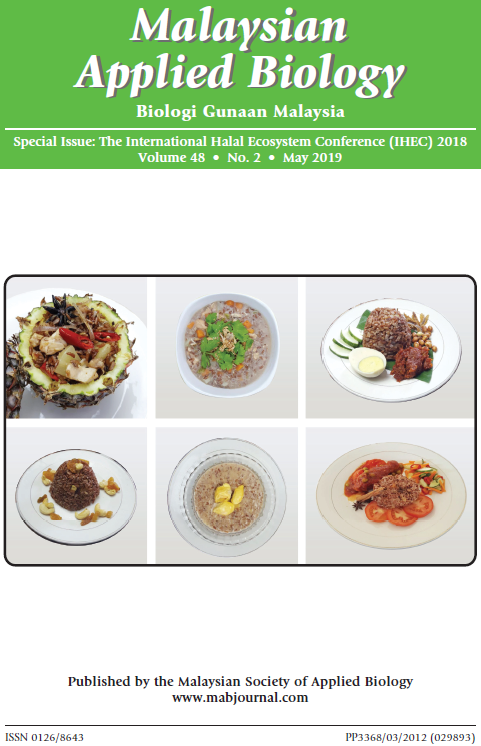 How to Cite
MOHD RAZALI, N. S., WENYIN, B., ARJUNAN, R. D. ., HASHIM, H. ., & ABDULLAH, A. (2019). TOTAL PHENOLIC CONTENT AND ANTIOXIDANT ACTIVITIES OF DATE FRUIT EXTRACTS. Malaysian Applied Biology, 48(2), 103–108. Retrieved from https://jms.mabjournal.com/index.php/mab/article/view/1906
Section
Research Articles
Copyright & Licensing
Any reproduction of figures, tables and illustrations must obtain written permission from the Chief Editor (wicki@ukm.edu.my). No part of the journal may be reproduced without the editor's permission