CIRI-CIRI FIZIKOKIMIA, AKTIVITI ANTIOKSIDA DAN INDEKS GLISEMIK PRODUK MINUMAN BERASASKAN BUAH-BUAHAN YANG DISEBUTKAN DALAM AL-QURAN
Keywords:
Physicochemical properties, antioxidant activities, blood glucose levels, glycemic index
Abstract
Recently, the trend toward consumption of products based on fruits mentioned in the Quran (PFMQ) has risen among Malaysian Muslims. These products are claimed to have beneficial effects on health similar to the actual fruits. However, there is a lack of scientific evidence to support the claims. This study determined the physicochemical properties (pH, total soluble solids (TSS), viscosity and ascorbic acid), total phenolic content (TPC), antioxidant activities and glycemic index (GI) of five local PFMQ mixed juices. The antioxidant activities were determined using 2,2-diphenyl-1-picrylhydrazyl and ferric reducing antioxidant power assays. GI was determined using the finger prick method. The results showed that the physicochemical properties of the products were within an acceptable range of similar products in the market. However, TPC and the antioxidant activities of the products were comparably low than the freshly prepared fruit juice. Only Product C had low GI (45.4) while other products had high GI values (>70). In conclusion, although the tested products have acceptable physicochemical properties, the nutritional qualities are not the same as real fruits, which may be influenced by food processing. Individuals particularly diabetes patients are advised to be cautious with such products as it may increase blood glucose levels. In contrast, natural and fresh fruits are a better option in maintaining health.
Downloads
Download data is not yet available.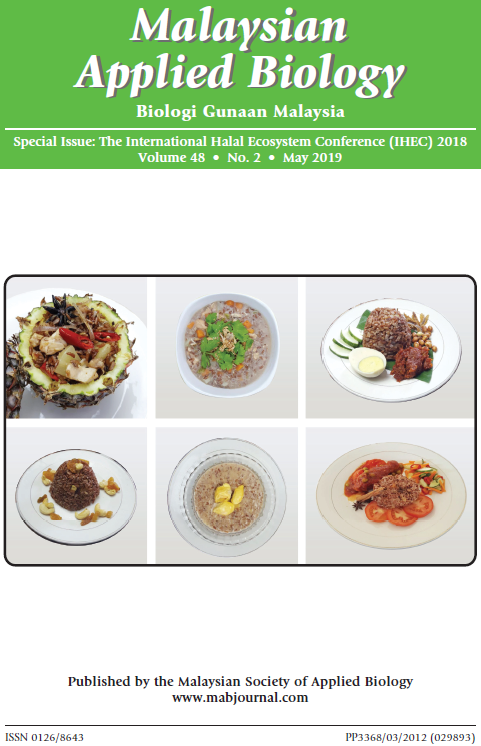 How to Cite
MAT DAUD, N., ABDUL RAZAK, N. H., & NGADIMEN, N. H. (2019). CIRI-CIRI FIZIKOKIMIA, AKTIVITI ANTIOKSIDA DAN INDEKS GLISEMIK PRODUK MINUMAN BERASASKAN BUAH-BUAHAN YANG DISEBUTKAN DALAM AL-QURAN. Malaysian Applied Biology, 48(2), 115–123. Retrieved from https://jms.mabjournal.com/index.php/mab/article/view/1908
Section
Research Articles
Copyright & Licensing
Any reproduction of figures, tables and illustrations must obtain written permission from the Chief Editor (wicki@ukm.edu.my). No part of the journal may be reproduced without the editor's permission