EFFECT OF DIFFERENT HYDROLYSIS TIME AND ENZYMES ON CHEMICAL PROPERTIES, ANTIOXIDANT AND ANTIHYPERGLYCEMIC ACTIVITIES OF EDIBLE BIRD NEST HYDROLYSATE
Keywords:
Antioxidant, anti-hyperglycemic, degree of hydrolysis, edible bird nest, hydrolysate
Abstract
Edible bird nest (EBN) is a dried glutinous secretion from the salivary glands of swiftlet species commonly found in the Southeast Asian region, including Malaysia. It is consumed traditionally by the Chinese as food delicacy and also considered as an important ingredient in traditional Chinese medicine for its beneficial health effects. The aim of this study was to evaluate the effect of enzymatic hydrolysis using alcalase, papain and papaya juice hydrolyze at 0.5 to 3 hr on the degree of hydrolysis (DH), protein solubility, concentration of reducing sugar, antioxidant and anti-hyperglycemic activity. In general, an increase in hydrolysis time increases the DH and soluble protein digestion rate. However, the concentration of reducing sugar was not affected by hydrolysis time. The solubility of proteins was highest for alcalase and papain at 3 h, while papaya juice at 2 h. Papain showed the highest antioxidant activity in 1 and 2 h of hydrolysis time whereas at 3 h, results for both papain and alcalase were higher compared to papaya juice. Result of anti-hyperglycemic activity showed that only EBN hydrolyzed using papaya juice has positive activity. Based on this study, enzymatic hydrolysis had improved the functional properties of EBN and results showed the potential of EBN to be developed as natural antioxidants and anti-hyperglycemic agents.
Downloads
Download data is not yet available.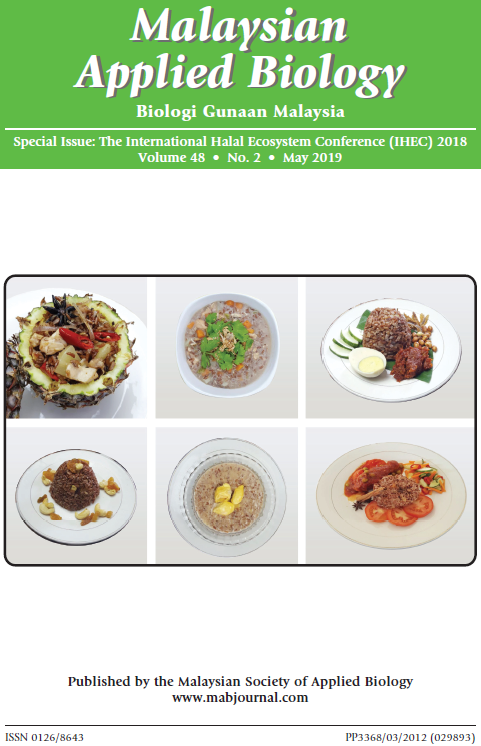 How to Cite
ZULKIFLI, A. S., BABJI, A. S. ., LIM, S. J., TEH, A. H., MAT DAUD, N. ., & ABDUL RAHMAN, H. (2019). EFFECT OF DIFFERENT HYDROLYSIS TIME AND ENZYMES ON CHEMICAL PROPERTIES, ANTIOXIDANT AND ANTIHYPERGLYCEMIC ACTIVITIES OF EDIBLE BIRD NEST HYDROLYSATE. Malaysian Applied Biology, 48(2), 149–156. Retrieved from https://jms.mabjournal.com/index.php/mab/article/view/1912
Section
Research Articles
Copyright & Licensing
Any reproduction of figures, tables and illustrations must obtain written permission from the Chief Editor (wicki@ukm.edu.my). No part of the journal may be reproduced without the editor's permission