ASSOCIATION OF HOUSEHOLD FOOD INSECURITY WITH ACADEMIC PERFORMANCE AND NUTRITIONAL STATUS OF FISHERMAN'S SCHOOL-AGED CHILDREN IN TERENGGANU, MALAYSIA
Keywords:
academic performance, fishermen's children, household food insecurity, Malaysia, nutritional status
Abstract
This study was conducted to establish the relationship between household food insecurity (via Household Food Insecurity Access Scale), academic performance (overall class position through School Exam Analysis System), and the nutritional status (BMI-for-age and height-for-age determination) of fishermen's children in Terengganu. This was a cross-sectional study involving 101 fishermen's children aged 7 to 11 years old. The data were analyzed using the Chi-square test. The result shows that the prevalence of children with food insecurity was 43.2%. It was found that 24.2% of fishermen's children were good at the academic level while 51.3% were moderate and 24.2% were poor. BMI prevalence for children who were normal 69.3% and remaining was 6.9% obese, 2.0% overweight, 12.9% thinness, and 8.9% severe thinness. For height-for-age, 8.9% were stunting, normal 88.1%, tallness 2.0%, followed by severely stunted 1.0%. There is no association found between household food insecurity and academic performance c2(1, n=101) = 1.891, p=0.169. There is also no association found between household food insecurity with BMI-for-age c2(1, n=101) = 1.105, p=0.293 and height-for-age, p>0.05 (with Fischer exact value = 0.093). Further studies must be carried out to produce further evidence of household food insecurity for fishermen in other Malaysian states, to prevent this group from being ignored.
Downloads
Download data is not yet available.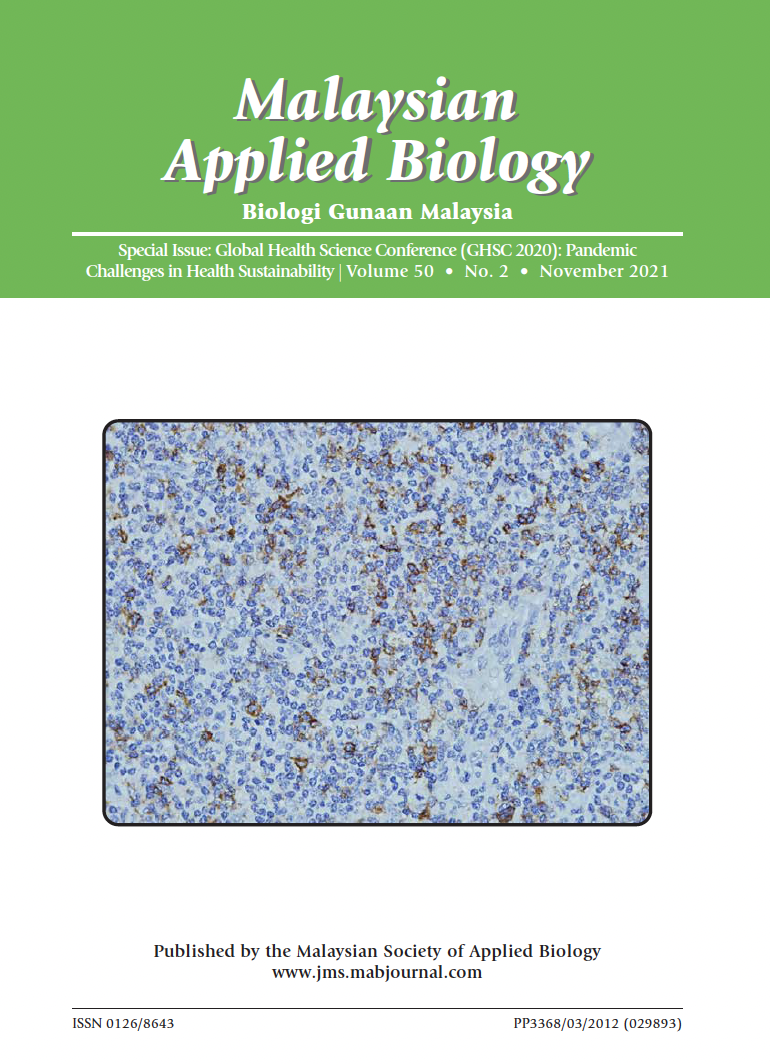 How to Cite
HASHIM, N. S. ., ALI, A., KAMARUDIN, K. S. ., MOHD YUSOF, H., ZAKARIA, N. S., SULAIMAN, N., & MOHD SHARIFF , . Z. (2021). ASSOCIATION OF HOUSEHOLD FOOD INSECURITY WITH ACADEMIC PERFORMANCE AND NUTRITIONAL STATUS OF FISHERMAN'S SCHOOL-AGED CHILDREN IN TERENGGANU, MALAYSIA. Malaysian Applied Biology, 50(2), 61–69. https://doi.org/10.55230/mabjournal.v50i2.1971
Section
Research Articles
Copyright & Licensing
Any reproduction of figures, tables and illustrations must obtain written permission from the Chief Editor (wicki@ukm.edu.my). No part of the journal may be reproduced without the editor's permission