FOOD INSECURITY AMONG UNIVERSITY STUDENTS AT TWO SELECTED PUBLIC UNIVERSITIES IN MALAYSIA
Keywords:
Food Insecurity, university students, Terengganu, Malaysia
Abstract
Most of food insecurity studies focus on the general households' level and less have been done for the university students. Therefore, this cross-sectional study focused on determining food insecurity, assessing factors contributing to the food insecurity and the association between socioeconomic status and food security status among students in two public universities in Terengganu. About 96 undergraduate students from two selected public universities in Terengganu participated and filled out a self-administered questionnaire consisting of three primary sections; Demographic profile, Food Security Index and Causes of Food Insecure and these were later analysed by SPSS. Results showed that 22% of respondents were classified as food insecure, with 14% of them were categorized in the low food security group and 8% were categorized as very low food security. High cost of living is among the main factors contributing to food insecurity among the university students in Terengganu. However, no significant association was found between socio-economic status and food insecurity status at p<0.05. This may indicate that there are other factors besides socioeconomic status, which may influence food insecurity of the students in this study. In the future, similar studies should be extended to focus on assessing students' food insecurity and food coping strategies.
Downloads
Download data is not yet available.
References
Berg, L.V.D. & Raubenheimeir, J. 2015. Food insecurity among students at the University of the Free State, South Africa. South African Journal of Clinical Nutrition, 28(4): 160-169.
Bruening, M., Brennhofer, S., Woerden, I.V. & Todd, M. 2016. Factors related to the high rates of food insecurity among diverse, urban college freshmen. Academy of Nutrition and Dietetics, 116(9): 1450-1457.
Cady, C. 2014. Food insecurity as a student issue. Journal of College & Character, 15(4): 265-271.
Chaparro, M.P., Zaghloul, S., Holck, P. & Dobbs, J. 2009. Food insecurity among college students at the University of Hawai'i at Manoa. Public Health Nutrition, 12(11): 2097-2103.
Dubick, J., Mathews, B. & Cady, C. 2016. Hunger on campus: The challenge of food insecurity for college students. Report for College and University Food Bank Alliance, National Student Campaign Against Hunger and Homelessness, Student Government Resource Center and Student Public Interest Research Groups.pg 1-47.
Espinoza, A. 2013. Assessing Differences in Food Security Status among College Students Enrolled at a Public California State University. California State University.
Frongillo, E.A. Jr., Rauschenbach, B.S., Olson, C.M., Kendall, A. & Colmenares, A.G. 1996. Estimating the prevalence of hunger and food insecurity: The validity of questionnaire-based measures for the identification of households.
Cornell University.
Freudenberg, N., Manzo, L., Jones, H., Kwan, A., Tsui, E. & Gagnon, M. 2011. Food insecurity at CUNY: Results from a survey of CUNY undergraduate students. City University of New York.
Gaines, A., Robb, C.A., Knol, L.L. & Sickler, S. 2014. Examining the role of financial factors, resources and skills in predicting food security status among college students. International Journal of Consumer Studies, 38(4): 374-384.
Ghani, A.S.M. 2016. 18,675 mahasiswa tidak berduit untuk makan. Sinar Harian [online]. Available from http://www.sinarharian.com.my/nasional/18-675-mahasiswa-tidak-berduit-untuk-makan-1.472073 [Accessed on 13 March 2017].
Hanbazaza, M.A. 2016. Hunger on campus: A multimethod study of food insecurity among postsecondary students at the University of Alberta. University of Alberta.
Hanna. 2014. Evaluation of food insecurity among college students. American International Journal of Contemporary Research, 4(4): 46-49.
Hanson, K.L., Sobal, J. & Frongillo, E.A. 2007. Gender and marital status clarify associations between food insecurity and body weight. The Journal of Nutrition, 137(6): 1460-1465.
Hashim, N., Khairil, K.A., Dahlan, A. & Ismail, N.H. (2014). Exploring the understanding of hunger experience among Malay undergraduate students in Malaysia. Recent Trends in Social and Behaviour Sciences – Proceedings of the 2nd International Congress on Interdisciplinary Behavior and Social Sciences, 2013: 549-552.
Nur Atiqah, A., Norazmir, M.N., Khairil Anuar, M.I., Mohd Fahmi, M. & Norazlanshah, H. 2015. Food security status: Its association with inflammatory marker and lipid profile among young adult. International Food Research Journal, 22(5): 1855-1863.
Lindsley, K. & King, C. 2014. Food insecurity of campus-residing Alaskan College students. Journal of the Academy of Nutrition and Dietetics, 114: 44.
Lisnic, R. 2016. Student food insecurity survey report student food insecurity survey: assessment, predictors, consequences and potential solutions. Student Affairs Centre for Community Engagement. Arkansas.
Leyna, G.H., Mmbaga, E.J., Mnyika, M.S. & Klepp, K.I. 2017. Validation of the Radimer/Cornell food insecurity measure in rural Kilimanjaro, Tanzania. Public Health Nutrition, 11(7): 684-689.
Ministry of Health (MOH). 2006. National Plan of Action for Nutrition of Malaysia II (2006 –2015). National Coordinating Committee on Food and Nutrition, Ministry of Health [online]. Available from http://nutrition.moh.gov.my/en/pelan-tindakan-pemakanan-kebangsaanmalaysianpanm/ [Accessed on 8 December2017].
Mansour, R. 2014. Food security among students at University of Wollongong. University of Wollongong.
Martinez, S.M., Maynard, K. & Ritchie, L.D. 2016. Student food access and security study. University of California Global Food Initiative Report. pg 1-29.
Maziya, M., Mudhara, M. & Chitja, J. 2017. What factors determine household food security among smallholder farmers? Insights from Msinga, KwaZulu-Natal, South Africa. Agrekon, 56(1): 40-52.
McIntyre, L., Glanville, N.T., Officer, S., Anderson, B., Raine, K.D. & Dayle, J.B. 2002. Food insecurity of low-income lone mothers and their children in Atlantic Canada. Canadian Journal of Public Health, 93(6): 411-415.
Micevski, D.A., Thornton, L.E. & Brockington, S. 2014. Food insecurity among university students in Victoria: A pilot study. Nutrition and Dietetics, 71(4): 258-264.
Moffitt, R.A. & Ribar, D.C. 2018. Child age and gender differences in food security in a low income US inner-city population. European Economic Review.
Morris, L.M., Smith, S., Davis, J. & Null, B.D. 2016. The prevalence of food security and insecurity among Illinois university students. Journal of Nutrition Education and Behavior, 48(6): 376- 382.
Myers, A.M. & Painter, M.A. 2017. Food insecurity in the United States of America: an examination of race/ethnicity and nativity. Food Security, 9(6): 1419-1432.
Patton-Lopez, M.M., Lopez-Cevallos, D.F., CancelTirado, D.I. & Vazquez, L. 2014. Prevalence and correlates of food insecurity among students
attending a midsize rural university in Oregon. Journal of Nutrition Education and Behavior, 46(3): 209-214.
Silva, R.M., Kleinert, W.L., Sheppard, A.V., Cantrell, K.A., Freeman-Coppadge, D.J., Tsoy, E., Roberts, T. & Pearrow, M. 2015. The relationship between food security, housing stability, and school performance among college students in an urban university. Journal of College Student Retention: Research, Theory and Practice, (1996): 208-221.
Sulaiman, N., Jusoh, M.Z. & Razak, M.A. 2013. Food insecurity among public university students receiving financial assistance in peninsular Malaysia. Malaysian Journal of Consumer and Family Economics, 16(12): 78-90.
Salwani. 2016. Cabaran baharu mahasiswa. Sinar Harian [online]. Available from http://www.sinarharian.com.my/kampus/cabaranbaharumahasiswa-1.481178 [Accessed on 13 March2017].
USDA. 2012. U.S. Adult food security survey module: Three- stage design with screeners. ERS [online]. Available from https://www.ers.usda.gov/media/8279/ad2012.pdf [Accessed on17 March 2017].
Zain, M.D.S. 2016. Tambang naik, mahasiswa tertekan, jejas kos sara hidup. Sinar Harian [online]. Available from http://www.sinarharian.com.my/kampus/tambang-naik-mahasiswatertekan-jejas-kos-sara-hidup-1.464960[Accessed on 13 March 2017].
Zhou, D., Shah, T., Ali, S., Ahmad, W., Din, I.U. & Ilyas, A. 2017. Factors affecting household food security in rural northern hinterland of Pakistan. Journal of the Saudi Society of Agricultural Sciences.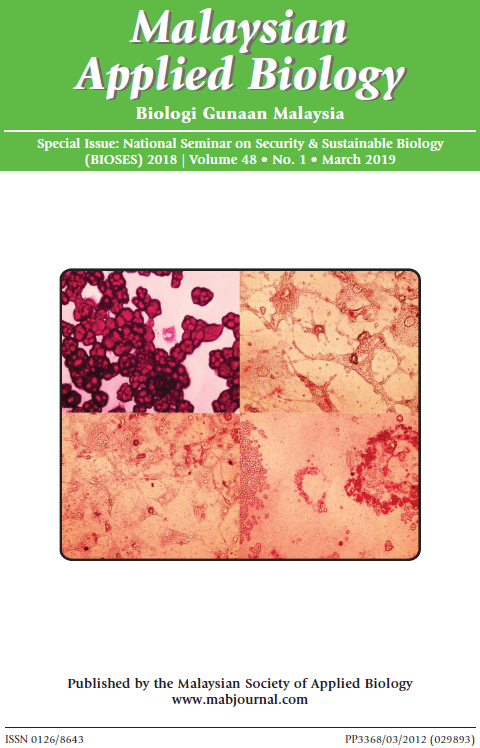 How to Cite
RAMLEE, I. S. ., ALI, A., ZALBAHAR, N. ., ABDUL WAHAB, R., & JAAFAR, S. N. 'AFIFAH . (2019). FOOD INSECURITY AMONG UNIVERSITY STUDENTS AT TWO SELECTED PUBLIC UNIVERSITIES IN MALAYSIA. Malaysian Applied Biology, 48(1), 101–110. Retrieved from https://jms.mabjournal.com/index.php/mab/article/view/2299
Section
Research Articles
Copyright & Licensing
Any reproduction of figures, tables and illustrations must obtain written permission from the Chief Editor (wicki@ukm.edu.my). No part of the journal may be reproduced without the editor's permission