FOOD POISONING PREVENTION DURING DINING OUT: A PRELIMINARY STUDY OF KNOWLEDGE, ATTITUDE, PRACTICE AND PERCEPTION AMONG CONSUMERS AT A SELECTED RURAL AREA IN TERENGGANU
Keywords:
knowledge, attitude, practice, perception, consumer, food poisoning prevention, rural area
Abstract
The main factors in reducing foodborne outbreaks are good knowledge, attitude, practice, and perception (KAP2) of food poisoning prevention. Nevertheless, limited KAP2 studies have been conducted among consumers, particularly in rural areas. Thus, this preliminary study was conducted to evaluate the current level of food poisoning prevention KAP2 before intervention among 100 voluntary consumers in Kuala Nerus, Terengganu, selected through a non-probability convenience sampling. The KAP2 questionnaire was used and consists of five sections: socio-demographic, knowledge (42 items), attitude (10 items), practices (10 items), and perception (5 items). The scoring method used the original Bloom's cut-off points with good level: 80%-100%; moderate level: 60-79%; and poor level: <59%. Overall, the results showed a moderate knowledge's level with a median knowledge score of 29.0 (IQR 7.0) out of 42.0, a positive attitude with 46.0 (IQR 7.0) out of 50.0, good practice's level with 34.0 (IQR 5.0) out of 40.0, and a moderate perception's level on food poisoning prevention with 17.5 (IQR 4.0) out of 25.0. In conclusion, evaluating KAP2 before intervention is essential in developing an efficient educational program.
Downloads
Download data is not yet available.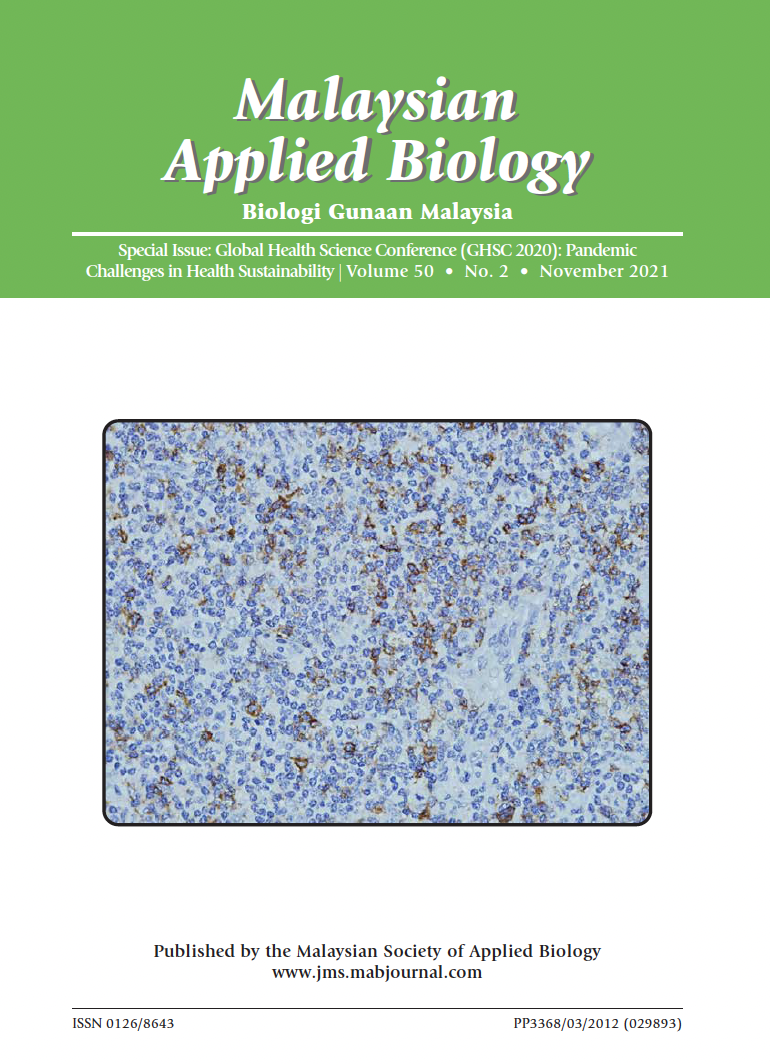 How to Cite
ZAUJAN, N. A. M., ALI, A., OSMAN, M., CHEE, H. Y., ITHNIN, N. R., MISNI, N. ., SUKERI, S., & YEE, C. P. (2021). FOOD POISONING PREVENTION DURING DINING OUT: A PRELIMINARY STUDY OF KNOWLEDGE, ATTITUDE, PRACTICE AND PERCEPTION AMONG CONSUMERS AT A SELECTED RURAL AREA IN TERENGGANU. Malaysian Applied Biology, 50(2), 113–124. https://doi.org/10.55230/mabjournal.v50i2.2199
Section
Research Articles
Copyright & Licensing
Any reproduction of figures, tables and illustrations must obtain written permission from the Chief Editor (wicki@ukm.edu.my). No part of the journal may be reproduced without the editor's permission