DIFFERENT PERCENTAGES OF BASIL SEEDS (Ocimum basilicium L.) AS HYDROCOLLOID IN BATTER COATING SYSTEM: EFFECT ON THE PHYSICOCHEMICAL AND SENSORY PROPERTIES OF BREADED FISH FILLETS
Keywords:
Breaded, coating materials, hydrocolloid, mucilage, tilapia fillet
Abstract
Basil seed (Ocimum basilicium L.) has the potential to improve the characteristics of food products when added to the batter for coating but the amount could result in different qualities. This study investigates the physicochemical and sensory properties of tilapia fish fillets coated with batter added with different percentages of basil seeds (0%, 3%, 6% & 9%). The viscosity, coating adhesion, cooking yield, frying loss, moisture and fat contents, colour, texture and sensory properties were analyzed. As the basil seeds percentages added increased, the viscosity was improved and strongly correlated with the coating adhesion, cooking yield, frying loss and moisture content. The hardness, chewiness and fracturability of the fish fillet were also improved. The treated samples were darker and redder, which contributed to the golden colour. Panellists rated the crispness and overall acceptability of the treated samples higher than the control (0% of basil seed), while other parameters such as colour, appearance, fishy smell level, taste and juiciness were not different between the control and the treated samples. In conclusion, the quality of the coated fish fillet with added 3% of basil seed to the batter was not much different compared to the control (0%), while, the 9% had negatively influenced the oil adsorption and sensory characteristics of the samples. Therefore, 6% is suggested as the most suitable percentage to be used in the batter.
Downloads
Download data is not yet available.
References
Albert, A., Perez-Munuera, I., Quiles, A., Salvador, A., Fiszman, S.M. & Hernando, I. 2009. Adhesion in fried battered nuggets: performance of different hydrocolloids as predusts using three cooking procedures. Food Hydrocolloid, 23(5): 1443-1448. DOI: https://doi.org/10.1016/j.foodhyd.2008.11.015
AOAC. 2005. Official methods of analysis of AOAC International, 18th Ed. AOAC International, Washington, DC, USA.
Bakar, J., Moradi, Y., Man, Y.C. & Kharidah, S. 2010. Fat uptake evaluation in fried fish fillet by using Scanning Electron Microscopy (SEM). Iranian Journal of Fisheries Sciences, 9(2): 327-336.
Balasubramaniam, V. M., Chinnan, M. S., Mallikarjunan, P., & Phillips, R. D. 1997. The effect of edible film on oil uptake and moisture retention of a deep‐fat fried poultry product. Journal of Food Process Engineering, 20(1): 17-29. DOI: https://doi.org/10.1111/j.1745-4530.1997.tb00408.x
Ballard, T.S. & Mallikarjunan, P. 2006. The effect of edible coatings and pressure frying using nitrogen gas on the quality of breaded fried chicken nuggets. Journal of Food Science, 71(3): S259-S264. DOI: https://doi.org/10.1111/j.1365-2621.2006.tb15651.x
Bandre, P.G., Koli, J.M., Shrangdher, S.T., Shingare, P.E., Swami, S.B., Sonavane, A.E. & Bhingarde, O.M. 2018. Development of predusting mix for coating of battered and breaded squid rings from (Loligo duvauceli). International Journal of Pure & Applied Bioscience, 6(4): 625-642. DOI: https://doi.org/10.18782/2320-7051.6815
Barbut, S. 2013. Frying-effect of coating on crust microstructure, color, and texture of lean meat portions. Meat Science, 93(2): 269-274. DOI: https://doi.org/10.1016/j.meatsci.2012.09.006
Chen, H.H., Kang, H.Y. & Chen, S.D. 2008. The effects of ingredients and water content on the rheological properties of batters and physical properties of crusts in fried foods. Journal of Food Engineering, 88(1): 45-54. DOI: https://doi.org/10.1016/j.jfoodeng.2008.01.017
Coorey, R., Tjoe, A. & Jayasena, V. 2014. Gelling properties of chia seed and flour. Journal of Food Science,79(5): E859-E866. DOI: https://doi.org/10.1111/1750-3841.12444
da Silva, M.C.A., Leite, J.S.A.F., Barreto, B.G., dos Anjos Neves, M.V., Silva, A.S., de Viveiros, K.M., Passos, R.S.F.T., Costa, N.P., da Silva, R.V. & Cavalheiro, C.P. 2021. The impact of innovative gluten-free coatings on the physicochemical, microbiological, and sensory characteristics of fish nuggets. LWT - Food Science and Technology, 137: 110409. DOI: https://doi.org/10.1016/j.lwt.2020.110409
Dogan, S.F., Sahin, S. & Sumnu, G. 2005. Effects of batters containing different protein types on the quality of deep-fat-fried chicken nuggets. European Food Research and Technology, 220(5-6): 502-508. DOI: https://doi.org/10.1007/s00217-004-1099-7
Fiszman, S.M. & Salvador, A. 2003. Recent developments in coating batters. Trends in Food Science & Technology, 14(10): 399-407. DOI: https://doi.org/10.1016/S0924-2244(03)00153-5
Hong, N.T. & Ibrahim, N.H. 2012. Extraction and characterization of mucilage from leaves of Pereskia Bleo (Rose Cactus) [Ekstraksi dan Karakterisasi Getah Daun Kaktus Mawar (Pereskia Bleo)]. Jurnal Teknologi dan Industri Pangan, 23(2): 210-216. DOI: https://doi.org/10.6066/jtip.2012.23.2.210
Jouki, M. & Khazaei, N. 2021. Effects of active batter coatings enriched by quince seed gum and carvacrol microcapsules on oil uptake and quality loss of nugget during frying. Journal of Food Science and Technology, 1-10. DOI: https://doi.org/10.1007/s13197-021-05114-4
Karimi, N. & Kenari, R.E. 2016. Functionality of coatings with salep and basil seed gum for deep fried potato strips. Journal of the American Oil Chemists' Society, 93(2): 243-250. DOI: https://doi.org/10.1007/s11746-015-2762-9
Kılınççeker, O. 2011. The behaviour of some vegetable-based materials used as edible coating on chicken nuggets. Food Technology and Biotechnology, 49(2): 237-243.
Kılınççeker. O. & Hepsag, F. 2011. Performance of different coating batters and frying temperatures for fried fish balls. Journal of Animal and Veterinary Advances, 10(17): 2256-2262. DOI: https://doi.org/10.3923/javaa.2011.2256.2262
Khazaei, N., Esmaiili, M. & Emam-Djomeh, Z. 2016. Effect of active edible coatings made by basil seed gum and thymol on oil uptake and oxidation in shrimp during deep-fat frying. Carbohydrate Polymer, 137: 249-254. DOI: https://doi.org/10.1016/j.carbpol.2015.10.084
Lee, C.H. & Chin, K.B. 2020. Physical properties and structural changes of myofibrillar protein gels prepared with basil seed gum at different salt levels and application to sausages. Foods, 9(6): 702. DOI: https://doi.org/10.3390/foods9060702
Liberty, J.T., Dehghannya, J. & Ngadi, M.O. 2019. Effective strategies for reduction of oil content in deep-fat fried foods: A review. Trends in Food Science & Technology, 92: 172-183. DOI: https://doi.org/10.1016/j.tifs.2019.07.050
Loewe, R. 1993. Role of ingredients in batter systems. Cereal Foods World, 38: 673-677.
Mirhosseini, H. & Amid, B.T. 2012. A review study on chemical composition and molecular structure of newly plant gum exudates and seed gums. Food Research International, 46(1): 387-398. DOI: https://doi.org/10.1016/j.foodres.2011.11.017
Mohamed, S., Hamid, N.A. & Hamid, M.A. 1998. Food components affecting the oil absorption and crispness of fried batter. Journal of the Science of Food and Agriculture, 78(1): 39-45. DOI: https://doi.org/10.1002/(SICI)1097-0010(199809)78:1<39::AID-JSFA82>3.0.CO;2-G
Péroval, C., Debeaufort, F., Despré, D. & Voilley, A. 2002. Edible arabinoxylan-based films. 1. Effects of lipid type on water vapor permeability, film structure, and other physical characteristics. Journal of Agricultural and Food Chemistry, 50(14): 3977-3983. DOI: https://doi.org/10.1021/jf0116449
Rozzamri, A., Atiqah-Izyannie, A,M., Mat Yusoff, M. & Ismail-Fitry, M.R. 2020 Effects of leavening agents in batter system on quality of deep-fried chicken breast meat. Food Research, 4(2):327-34. DOI: https://doi.org/10.26656/fr.2017.4(2).273
Sahin, S., Sumnu, G. & Altunakar, B. 2005. Effects of batters containing different gum types on the quality of deep‐fat fried chicken nuggets. Journal of the Science of Food and Agriculture, 85(14): 2375-2379. DOI: https://doi.org/10.1002/jsfa.2258
Talab, A.S. & Abou-Taleb, M. 2021. Effect of different hydrocolloids on the quality criteria of fish fingers during frozen storage. Egyptian Journal of Aquatic Biology and Fisheries, 25(5): 323-335. DOI: https://doi.org/10.21608/ejabf.2021.199622
Varela, P. & Fiszman, S.M. 2011. Hydrocolloids in fried foods. A review. Food Hydrocolloid, 25(8): 1801-1812. DOI: https://doi.org/10.1016/j.foodhyd.2011.01.016
Yusnita, H., Wan Aida, W.M., Maskat, M.Y. & Aminah, A. 2007. Processing performance of coated chicken wings as affected by wheat, rice and sago flours using response surface methodology. International Journal of Food Science & Technology, 42(5): 535-542. DOI: https://doi.org/10.1111/j.1365-2621.2006.01262.x
Zameni, A., Kashaninejad, M., Aalami, M. & Salehi, F. 2015. Effect of thermal and freezing treatments on rheological, textural and color properties of basil seed gum. Journal of Food Science and Technology, 52(9): 5914-592. DOI: https://doi.org/10.1007/s13197-014-1679-x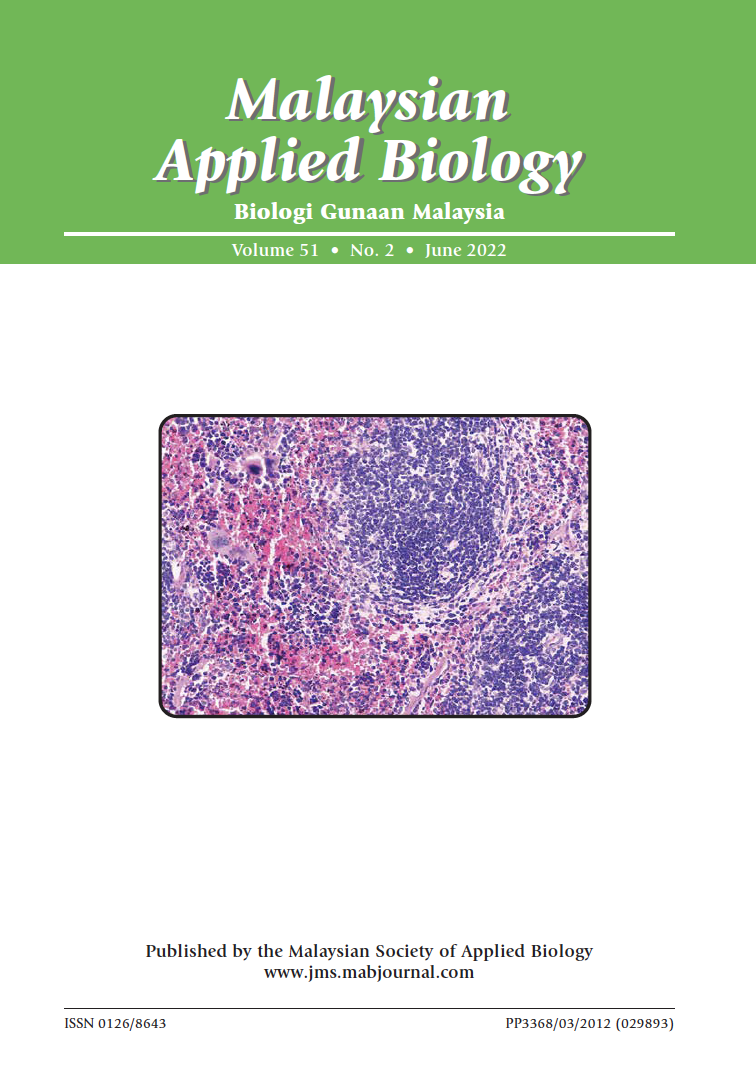 How to Cite
ABDUL-ZUBIR, A., SULEIMAN, N., YUSOF, N. L., ISMAIL, I. ., & ISMAIL-FITRY, M. R. (2022). DIFFERENT PERCENTAGES OF BASIL SEEDS (Ocimum basilicium L.) AS HYDROCOLLOID IN BATTER COATING SYSTEM: EFFECT ON THE PHYSICOCHEMICAL AND SENSORY PROPERTIES OF BREADED FISH FILLETS. Malaysian Applied Biology, 51(2), 69–76. https://doi.org/10.55230/mabjournal.v51i2.2245
Section
Research Articles
Copyright & Licensing
Any reproduction of figures, tables and illustrations must obtain written permission from the Chief Editor (wicki@ukm.edu.my). No part of the journal may be reproduced without the editor's permission