COMPARISON OF BOILING, STEAMING, AIR FRYING, DEEP-FRYING, MICROWAVING AND OVEN-COOKING ON QUALITY CHARACTERISTICS OF KEROPOK LEKOR (MALAYSIAN FISH SAUSAGE)
Keywords:
cooking methods, fish products, heat treatments, deep-fried, keropok lekor
Abstract
Keropok lekor (KL) (Malaysian fish sausage) is usually boiled and then deep-fried for consumption. The combination of these cooking methods could produce greasy and fatty products thus negatively affect health in a long term. Other cooking methods could be better alternatives to the common methods. Therefore, this study aimed to investigate the effect of six cooking methods namely boiling, steaming, air frying, deep-frying, microwaving and oven-cooking on the KL quality. The cooked samples were analysed for the moisture, fat, linear expansion, cooking yield, water holding capacity, colour, texture and sensory properties. Boiling showed the highest linear expansion (3.02%), cooking yield (104.10%) and water holding capacity (41.04%). Meanwhile, deep frying significantly reduced (p<0.05) the moisture (39.83%) and increased the fat (6.58%) contents, exhibited harder texture (93.13N) and showed a higher yellowness value (8.23) compared to other cooking methods. No significant difference (p>0.05) was found in other properties; however, panellists significantly (p<0.05) preferred the crispiness and overall acceptability of the deep-fried followed by oven-cooked KL. Indeed, textures and colours had significant (p<0.05) relationships with sensory properties. In conclusion, deep-frying and oven-cooking reduced the moisture content and increased the hardness of KL, which increased the panelists' preferences. However, deep-fried KL had a higher fat content due to the cooking with oil; therefore, the oven-cooked KL can be the healthier alternative.
Downloads
Download data is not yet available.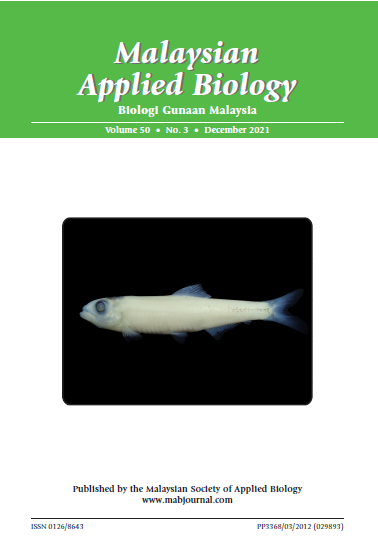 How to Cite
MOHD TAMSIR, M., RAMLI, N. S., MAHMUD AB RASHID, N. K., SHUKRI, R., & ISMAIL-FITRY, M. R. (2021). COMPARISON OF BOILING, STEAMING, AIR FRYING, DEEP-FRYING, MICROWAVING AND OVEN-COOKING ON QUALITY CHARACTERISTICS OF KEROPOK LEKOR (MALAYSIAN FISH SAUSAGE). Malaysian Applied Biology, 50(3), 77–85. https://doi.org/10.55230/mabjournal.v50i3.2000
Section
Research Articles
Copyright & Licensing
Any reproduction of figures, tables and illustrations must obtain written permission from the Chief Editor (wicki@ukm.edu.my). No part of the journal may be reproduced without the editor's permission