CONTROL OF GRAY MOLD DISEASE OF TOMATO CAUSED BY Botrytis cinerea USING BACTERIAL SECONDARY METABOLITES
Keywords:
Tomato fruit, gray mold disease, secondary metabolites, GC-MS, biological control
Abstract
Gray mold disease is caused by Botrytis cinerea and it is the most significant and devastating disease affecting tomato cultivation worldwide. This disease was recently reported infecting tomato fruits in Cameroon Highland, Pahang. Biocontrol agents have been proven to be effective towards many phytopathogens. In this study, 43 bacterial isolates were screened against B. cinerea in-vitro. Five isolates with more than 65% inhibition of radial growth (PIRG) were selected for the subsequent experiments. Findings in dual culture assay revealed that BM11 and BC4 were the most effective biocontrol agent, with PIRG of 82.5% and 71.8%, respectively. BM11 and BC4 isolates were identified using the 16S rDNA gene. The identification results found that BM11 and BC4 were Pseudomonas protegens and Brevibacterium casei, respectively. Ten major bioactive compounds were successfully identified by Gas chromatography-mass spectrometry (GC-MS) from the culture filtrate of both biological control agent (BCA) isolates. These bioactive compounds may responsible for antifungal activity. In vivo study revealed that culture filtrate extract manages to suppress disease lesions on the treated tomato fruit from 0.86 -1.03 cM, 30 days after inoculation. Based on overall findings suggested that P. protegens and B. casei were the promising BCA in controlling gray mold disease of tomato fruit.
Downloads
Download data is not yet available.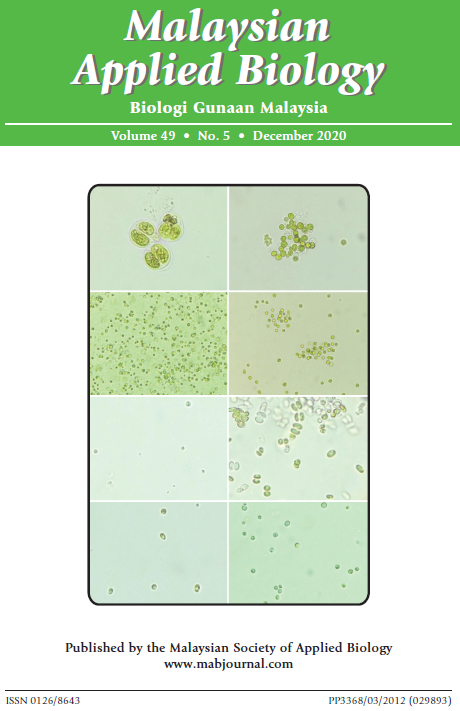 How to Cite
HASHIM, A. ., ISMAIL, S. I. ., ALSULTAN, W., SEMAN, I. A. ., RASHED, O. ., & AHMAD, K. . (2020). CONTROL OF GRAY MOLD DISEASE OF TOMATO CAUSED BY Botrytis cinerea USING BACTERIAL SECONDARY METABOLITES. Malaysian Applied Biology, 49(5), 89–97. https://doi.org/10.55230/mabjournal.v49i5.1641
Section
Research Articles
Copyright & Licensing
Any reproduction of figures, tables and illustrations must obtain written permission from the Chief Editor (wicki@ukm.edu.my). No part of the journal may be reproduced without the editor's permission