EFFECTS OF LIGHT ILLUMINATION AND SUBCULTURE FREQUENCY ON BIOMASS PRODUCTION IN CELL SUSPENSION CULTURES OF Clinacanthus nutans
Keywords:
Callus, cell suspension culture, Clinacanthus nutans, light, subculture frequency
Abstract
Clinacanthus nutans (Burm. f.) Lindau is a medicinal plant rich in polyphenols and possesses multiple pharmacological properties. It is widely used as a side treatment for cancer and to prevent oxidative stress-related diseases. The present study aims to investigate the effects of light illumination and subculture frequency on the growth and proliferation of cells in the suspension culture of C. nutans. Friable callus induced from leaf explants C. nutans were cultured in liquid Murashige & Skoog medium supplemented with 0.25 mg/L 2, 4-dichlorophenoxyacetic acid, and 0.25 mg/L 6-benzylaminopurine to initiate the cell suspension culture. The suspension cultures were incubated under different conditions (16 hr photoperiod and continuous darkness). Subcultures were conducted every two weeks for ten subculture cycles. Results revealed that higher cell biomass was obtained under the exposure of 16 hr photoperiod with the highest biomass production at the fifth subculture cycle (growth index of 11.8) exhibiting stable growth from the eighth to the tenth subculture cycle. The suspension cells showed stable growth rates up to the 10th subculture cycle producing small aggregates and single cells. The present study indicated that light illumination significantly impacts the growth of suspension cultures for C. nutans in the production of valuable secondary metabolites.
Downloads
Download data is not yet available.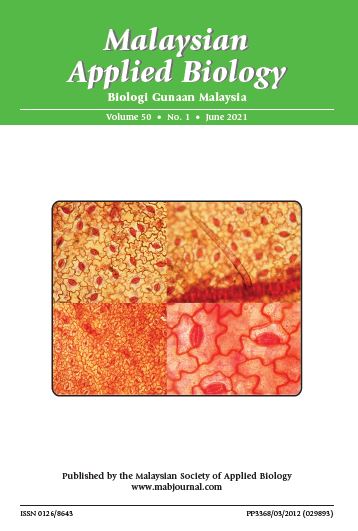 How to Cite
BONG, F. J. ., SUBRAMANIAM, S., & CHEW, B. L. (2021). EFFECTS OF LIGHT ILLUMINATION AND SUBCULTURE FREQUENCY ON BIOMASS PRODUCTION IN CELL SUSPENSION CULTURES OF Clinacanthus nutans. Malaysian Applied Biology, 50(1), 197–204. https://doi.org/10.55230/mabjournal.v50i1.1508
Section
Research Articles
Copyright & Licensing
Any reproduction of figures, tables and illustrations must obtain written permission from the Chief Editor (wicki@ukm.edu.my). No part of the journal may be reproduced without the editor's permission