THE ESTABLISHMENT OF ASEPTIC CULTURES AND MULTIPLE SHOOT INDUCTION OF OLIVE (Olea europaea) cv.1
Keywords:
6-Benzylaminopurine, micropropagation, nodal explants, olive, zeatin
Abstract
Olea europaea or the olive plant is from the family of Oleaceae and has been cultivated for its fruits that are highly nutritious, capable of reducing risks of cardiovascular diseases and to prevent cancer. The current propagation technique of olive plants in Malaysia relies on conventional methods that are less efficient in producing good quality plant stocks. Plant tissue culture offers an alternative to multiply plants from novel mother plants and is commonly applied in the propagation of various crops. This study aims to establish sterile cultures and to induce multiple shoots from Olea europaea cv.1 as a preliminary study to micropropagate olive plants for commercial farms in Malaysia. Nodal explants were surfaced sterilised with ethanol and Clorox© at different durations followed by treatments in MS media supplemented with different concentrations of Zeatin and BAP. Nodal explants surface sterilised with 70% (v/v) ethanol for 2 min and 30% (v/v) Clorox© for 8 min produced sterile explants with the survival rate of 85%. MS media supplemented 5.0 mg/L BAP was optimal for shoot induction (2.10 ± 0.31 shoots per explant) and shoot elongation (6.50 ± 1.17 mm). The current study serves as preliminary assessment for the establishment of local olive cultures.
Downloads
Download data is not yet available.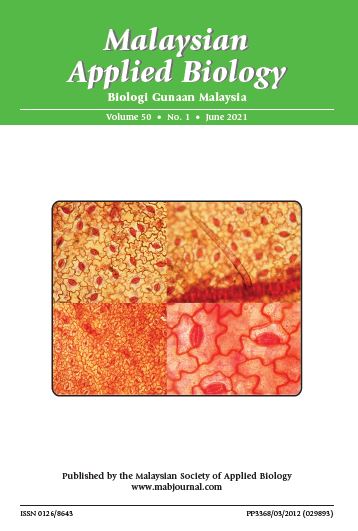 How to Cite
WONG, R. S., CHAI, H. X., SUBRAMANIAM, S., & CHEW, B. L. (2021). THE ESTABLISHMENT OF ASEPTIC CULTURES AND MULTIPLE SHOOT INDUCTION OF OLIVE (Olea europaea) cv.1. Malaysian Applied Biology, 50(1), 125–132. https://doi.org/10.55230/mabjournal.v50i1.19
Section
Research Articles
Copyright & Licensing
Any reproduction of figures, tables and illustrations must obtain written permission from the Chief Editor (wicki@ukm.edu.my). No part of the journal may be reproduced without the editor's permission