DNA BARCODING OF COMMON MALAYSIAN SPIDERS USING THE CYTOCHROME OXIDASE I (COI) GENE
Keywords:
DNA, barcoding, spiders, phylogenetic, identification
Abstract
For the last twenty years, many newly described spiders were collected from Malaysia and in fact, more than 11,000 species were recorded in Peninsular Malaysia as well as in Sabah and Sarawak states. Scientists have put an immense effort on untangling the spider biology from its physical structure and behavior to silks and venoms. However, working with spiders is impeded by the difficulties in species identification via solely morphological methods. Thus, DNA barcoding is an alternative technique that employs standard fragment to facilitate species identification. Isolation of genomic DNA from three Malaysian spiders were performed using NucleoSpin® DNA insect extraction kit. Amplification of reference mitochondrial cytochrome oxidase I (COI) gene employing PCR with two set of primers followed by the DNA sequencing and validation through phylogenetic analysis were carried out. The commercial extraction kit was effective for the recovery of good quality of intact genomic DNA band as indicated by the integrity analysis. Both set of primers successfully amplified 100% of the samples with approximately 600 – 700 bp of PCR products. The obtained sequences (610 bp to 692 bp) were compared with the sequences available in Gene Bank. BLAST and phylogenetic analysis revealed that the analyzed individual samples belong to Nephila pilipes, Neoscona nautica and Crossopriza lyoni, respectively. Phylogenetic analysis provided unique insight into the evolutionary relationship of each analyzed sample. This study aids in an accurate identification of the selected local spider species at molecular level using the COI gene.
Downloads
Download data is not yet available.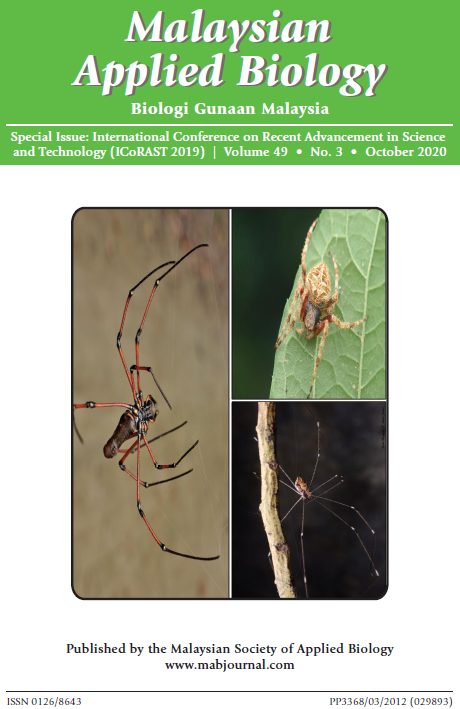 How to Cite
ABDUL RAHMAN, A. M. ., KOAY, K. C., MOHTAR, J. A. ., ABDULLAH, N. A. H. ., JAMIL, A. ., & ABDUL SHUKOR, M. M. . (2020). DNA BARCODING OF COMMON MALAYSIAN SPIDERS USING THE CYTOCHROME OXIDASE I (COI) GENE. Malaysian Applied Biology, 49(3), 71–80. https://doi.org/10.55230/mabjournal.v49i3.1545
Section
Research Articles
Copyright & Licensing
Any reproduction of figures, tables and illustrations must obtain written permission from the Chief Editor (wicki@ukm.edu.my). No part of the journal may be reproduced without the editor's permission