KESAN PENAMBAHAN MINYAK KELAPA DARA ATAU EKSTRAK ALOE VERA DALAM MENINGKATKAN AKTIVITI ANTIVIRUS IN VITRO GONIOTHALAMIN
THE EFFECTS OF THE ADDITION OF VIRGIN COCONUT OIL OR ALOE VERA EXTRACT IN INCREASING IN VITRO ANTI-HHV-1 ACTIVITY OF GONIOTHALAMIN
Keywords:
Aktiviti antivirus, ekstrak aloe vera, goniothalamin, kestabilan gabungan, minyak kelapa dara
Abstract
The antiviral activity of goniothalamin (GTN) from Goniothalamus umbrosus root, virgin coconut oil (VCO) and aloe vera extract (AVE) have been reported, but the combined activity is yet to be determined. This study aims to determine the stability, cytotoxicity and  effectiveness of pure GTN, combination of GTN and VCO (GTN+VCO) or combination of GTN and AVE (GTN+ AVE) towards in vitro Human Herpesvirus 1 (HHV-1) infection. GTN stability improved significantly (α<0.05) when added with VCO or AVE even though reduction in concentration was noted. The CC50 values for GTN towards vero cells increased when combined with VCO or AVE, which generally reduces the cytotoxicity. Antiviral activity determination by plaque reduction assay in vero cells showed increase in EC50 values with reference to GTN concentration. Selective index (SI) values for pure GTN (11.94),  GTN+VCO (12.23), and GTN+AVE (25.73) respectively. The mode of antiviral activity for all three test substances was post-treatment essentially more effective when treated 2 hours post-infection to cells. The test substances did not protect cells from virus infection if pre-treated and was not virucidal. In conclusion, AVE stabilises GTN in solution and GTN+AVE improves the anti-HHV-1 activity worth for further examination as plant-based antiviral agent.
Downloads
Download data is not yet available.
References
Abdul Wahab, N.Z., Shahar, S., Abdullah-Sani, H., L Pihie, A.H. & Ibrahim, N. 2011. Antioxidant, antibacterial and antiviral properties of Goniothalamus umbrosus leaves methanolic extract. African Journal of Microbiology Research, 5(20): 3138-3143. DOI: https://doi.org/10.5897/AJMR10.758
Ahamad Bahtiar, A., Md Nor, N.S. & Ibrahim, N. 2016. In vitro antiviral activity of styrylpyrone derivative-incorporated formulations against herpes simplex virus type-1. Malaysian Journal of Microbiology, 12(3): 228-232. DOI: https://doi.org/10.21161/mjm.81015
Angeles-Agdeppa, I., Nacis, J.S., Capanzana, M.V., Dayrit, F.M. & Tanda, K.V. 2021. Virgin coconut oil is effective in lowering C-reactive protein levels among suspect and probable cases of COVID-19. Journal of Functional Foods, 83: 104557. DOI: https://doi.org/10.1016/j.jff.2021.104557
Bahtiar, A.A., Nor, N.S. & Ibrahim, N. 2015. Stability evaluation of Styrylpyrone derivative (SPD) incorporated products. AIP Conference Proceedings, 1678: 030005. DOI: https://doi.org/10.1063/1.4931226
Balsinghe, R.R., Rajbhoj, S.R., Limaye, M.V., Vaidya, M.U., Rane, P.S. & Tilak, A.V. 2017. Antiinflammatory and immunomodulatory activity of ethanol extract of Aloe vera gel. Journal of Pharmaceutical Sciences and Research, 9(2): 832-835.
Bonifácio, B.V., da Silva, P.B., dos Santos Ramos, M.A., Silveira Negri, K.M., Bauab, T.M. & Chorilli, M. 2014. Nanotechnology-based drug delivery systems and herbal medicines: A review. International Journal of Nanomedicine, 9(1): 1-15. DOI: https://doi.org/10.2147/IJN.S52634
Chen, Y., Scieux, C., Garrait, V., Socié, G., Rocha, V., Molina, J., Thouvenot, D., Morfin, F., Hocqueloux, L., Garderet, L., Espérou, H., Sélimi, F., Devergie, A., Leleu, G., Aymard, M., Morinet, F., Gluckman, E. & Ribaud, P. 2000. Resistant herpes simplex virus type 1 infection: An emerging concern after Allogeneic stem cell transplantation. Clinical Infectious Diseases, 31(4): 927-935. DOI: https://doi.org/10.1086/314052
Choi, S. & Chung, M. 2003. A review on the relationship between aloe Vera components and their biologic effects. Seminars in Integrative Medicine, 1(1): 53-62. DOI: https://doi.org/10.1016/S1543-1150(03)00005-X
Dargan, D.J. 2003. Investigation of the anti-HSV activity of candidate antiviral agents. Herpes Simplex Virus Protocols, Humana Press: New Jersey. pp. 387–406. DOI: https://doi.org/10.1385/0-89603-347-3:387
Florence, A.T. & Attwood, D. 2011. Physicochemical Principles of Pharmacy. 5th Ed. Pharmaceutical Press: London. 527 pp.
Hamman, J. 2008. Composition and applications of aloe Vera leaf gel. Molecules, 13(8): 1599-1616. DOI: https://doi.org/10.3390/molecules13081599
Hamsi, M.A., Othman, F., Das, S., Kamisah, Y., Thent, Z.C., Qodriyah, H.M., Zakaria, Z., Emran, A., Subermaniam, K. & Jaarin, K. 2015. Effect of consumption of fresh and heated virgin coconut oil on the blood pressure and inflammatory biomarkers: An experimental study in Sprague Dawley rats. Alexandria Journal of Medicine, 51(1): 53-63. DOI: https://doi.org/10.1016/j.ajme.2014.02.002
Honess, R.W. & Roizman, B. 1974. Regulation of Herpesvirus macromolecular synthesis I. Cascade regulation of the synthesis of three groups of viral proteins. Journal of Virology, 14(1): 8-19. DOI: https://doi.org/10.1128/jvi.14.1.8-19.1974
Ibrahim, N., Shahar, S., Wahab, N.Z. & Nor, N.S. 2019. Effect of styrylpyrone derivative (SPD) and SPD/foscarnet combination towards virus infected cell. THE 2018 UKM FST POSTGRADUATE COLLOQUIUM: Proceedings of the Universiti Kebangsaan Malaysia, Faculty of Science and Technology 2018 Postgraduate Colloquium, 21111(1): 040002. DOI: https://doi.org/10.1063/1.5111241
Ikawa, Y., Fujiki, T., Nishimura, R., Noguchi, K., Koshino, E., Fujiki, A., Fukuda, M., Kuroda, R., Mase, S., Araki, R., Maeba, H., Shiraki, K. & Yachie, A. 2019. Improvement of refractory acyclovir-resistant herpes simplex virus type 1 infection by continuous acyclovir administration. Journal of Infection and Chemotherapy, 25(1): 65-67. DOI: https://doi.org/10.1016/j.jiac.2018.07.004
Jewers, K., Davis, J., Dougan, J., Manchanda, A., Blunden, G., Kyi, A. & Wetchapinan, S. 1972. Goniothalamin and its distribution in four Goniothalamus species. Phytochemistry, 11(6): 2025-2030. DOI: https://doi.org/10.1016/S0031-9422(00)90168-7
Kohn, A., Gitelman, J. & Inbar, M. 1980. Unsaturated free fatty acids inactivate animal enveloped viruses. Archives of Virology, 66(4): 301-307. DOI: https://doi.org/10.1007/BF01320626
Kristmundsdóttir, T., Árnadóttir, S.G., Bergsson, G. & Thormar, H. 1999. Development and evaluation of microbicidal hydrogels containing monoglyceride as the active ingredient. Journal of Pharmaceutical Sciences, 88(10): 1011-1015. DOI: https://doi.org/10.1021/js9900396
Lin, C., Wu, C., Hsiao, N., Chang, C., Li, S., Wan, L., Lin, Y. & Lin, W. 2008. Aloe-emodin is an interferon-inducing agent with antiviral activity against Japanese encephalitis virus and enterovirus 71. International Journal of Antimicrobial Agents, 32(4): 355-359. DOI: https://doi.org/10.1016/j.ijantimicag.2008.04.018
Md Nor, N.S. & Ibrahim, N. 2011. Styrylpyrone derivative of Goniothalamus umbrosus inhibit HSV-1 infection during viral early replication cycle. Antiviral Research, 90(2): A58. DOI: https://doi.org/10.1016/j.antiviral.2011.03.112
Md Nor, N.S. & Ibrahim, N. 2012. Styrylpyrone derivative (SPD) induce cell cycle arrest during herpes simplex virus type-1 (HSV-1) infection. International Journal of Infectious Diseases, 16: e97. DOI: https://doi.org/10.1016/j.ijid.2012.05.225
Menda, J.P., Reddy, T., Deepika, R., Pandima Devi, M. & Sastry, T.P. 2015. Preparation and characterization of wound healing composites of chitosan, aloe vera and Calendula officinalis – A comparative study. American Journal of Phytomedicine and Clinical Therapeutics, 2(1): 61-76.
Mohd-Nasir, H. & Mohd-Setapar, S.H. 2018. Natural ingredients in cosmetics from Malaysian plants: A review. Sains Malaysiana, 47(5): 951-959. DOI: https://doi.org/10.17576/jsm-2018-4705-10
Mosmann, T. 1983. Rapid colorimetric assay for cellular growth and survival: Application to proliferation and cytotoxicity assays. Journal of Immunological Methods, 65(1-2): 55-63. DOI: https://doi.org/10.1016/0022-1759(83)90303-4
Narayanankutty, A., Illam, S. P. & Raghavamenon, A.C. 2018. Health impacts of different edible oils prepared from coconut (Cocos nucifera): A comprehensive review. Trends in Food Science & Technology, 80: 1-7. DOI: https://doi.org/10.1016/j.tifs.2018.07.025
Pastre, J.C., Murray, P.R., Browne, D.L., Brancaglion, G.A., Galaverna, R.S., Pilli, R.A. & Ley, S.V. 2020. Integrated batch and continuous flow process for the synthesis of Goniothalamin. ACS Omega, 5(29): 18472-18483. DOI: https://doi.org/10.1021/acsomega.0c02390
Pilli, R.A., De Toledo, I., Meirelles, M.A. & Grigolo, T.A. 2019. Goniothalamin-related Styryl lactones: Isolation, synthesis, biological activity and mode of action. Current Medicinal Chemistry, 26(41): 7372-7451. DOI: https://doi.org/10.2174/0929867325666181009161439
Ramesh, S., Pandiselvam, R., Hebbar, K., Manikantan, M., Beegum, P.S., Praveen, S. & Sruthi, N. 2021. Antiviral potential of coconut (Cocos nucifera L.) oil and COVID-19. Coronaviruses, 2(4): 405-410. DOI: https://doi.org/10.2174/2666796701999201104164010
Razali, R.M., Kadir, N.H.A., Ghazaly, M.M., Ganeson, K., Manikam, R.V.S. & Jamaludin, N.H. 2020. Toxicity determination of cinnamon oil-infused Aloe vera edible coating matrix on normal human lung fibroblast MRC-5 cells. Malaysian Applied Biology, 49(4): 267-271. DOI: https://doi.org/10.55230/mabjournal.v49i4.1631
Renjith, R., Chikku, A. & Rajamohan, T. 2013. Cytoprotective, antihyperglycemic and phytochemical properties of Cocos nucifera (L.) inflorescence. Asian Pacific Journal of Tropical Medicine, 6(10): 804-810. DOI: https://doi.org/10.1016/S1995-7645(13)60142-X
Rezazadeh, F., Moshaverinia, M., Motamedifar, M. & Alyaseri, M. 2016. Assessment of anti HSV-1 activity of aloe vera gel extract: An in vitro study. Journal of Dentistry, 17(1): 49-54.
Sahu, P.K., Giri, D.D., Singh, R., Pandey, P., Gupta, S., Shrivastava, A.K., Kumar, A. & Pandey, K.D. 2013. Therapeutic and medicinal uses of Aloe vera: A review. Pharmacology & Pharmacy, 4(8): 599-610. DOI: https://doi.org/10.4236/pp.2013.48086
Semprebon, S., De Fátima, Â., Lepri, S., Sartori, D., Ribeiro, L. & Mantovani, M. 2014. (s)-goniothalamin induces DNA damage, apoptosis, and decrease in BIRC5 Messenger RNA levels in NCI-H460 cells. Human & Experimental Toxicology, 33(1): 3-13. DOI: https://doi.org/10.1177/0960327113491506
Seyed, M.A., Jantan, I. & Bukhari, S.N. 2014. Emerging anticancer potentials of Goniothalamin and its molecular mechanisms. BioMed Research International, 2014: 1-10. DOI: https://doi.org/10.1155/2014/536508
Shilling, M., Matt, L., Rubin, E., Visitacion, M.P., Haller, N.A., Grey, S.F. & Woolverton, C.J. 2013. Antimicrobial effects of virgin coconut oil and its medium-chain fatty acids on Clostridium difficile. Journal of Medicinal Food, 16(12): 1079-1085. DOI: https://doi.org/10.1089/jmf.2012.0303
Stanley, M.C., Ifeanyi, O.E. & Eziokwu, O.G. 2014. Antimicrobial effects of aloe vera on some human pathogens. International Journal of Current Microbiology and Applied Sciences, 3(3): 1022-1028.
Stránská, R., Schuurman, R., Nienhuis, E., Goedegebuure, I. W., Polman, M., Weel, J. F., Wertheim-Van Dillen, P.M., Berkhout, R.J. & van Loon, A.M. 2005. Survey of acyclovir-resistant herpes simplex virus in the Netherlands: prevalence and characterization. Journal of Clinical Virology, 32(1): 7–18. DOI: https://doi.org/10.1016/j.jcv.2004.04.002
Suffness, M. & Pezzuto, J.M. 1990. Assays related to cancer drug discovery. Methods in Plant Biochemistry: Assays for Bioactivity, 6: 71-133.
Sun, Z., Yu, C., Wang, W., Yu, G., Zhang, T., Zhang, L., Zhang, J. & Wei, K. 2018. Aloe polysaccharides inhibit influenza A virus infection—A promising natural anti-flu drug. Frontiers in Microbiology, 9: 2338. DOI: https://doi.org/10.3389/fmicb.2018.02338
Wahab, N.Z., Nazlina, I., Sani, H.A. & Pihie, A.L. 2015. The proposed action of styrylpyrone derivative in HSV-1 infected vero cells by differential gene expression. Research & Reviews in BioSciences, 10(5): 166-172.
William, J.A. 2018. US10307452B2 - Antimicrobial and antiviral composition - Google patents. Google Patents. URL https://patents.google.com/patent/US10307452B2/en (accessed 10.2.21)
Yip, C., Nagaoka, Y., Nor, N. S. & Ibrahim, N. 2016. In vitro evaluation of anticancer effect and neurotoxicity of styrylpyrone derivative (SPD). AIP Conference Proceedings, 1784: 020013. DOI: https://doi.org/10.1063/1.4966723
Zandi, K., Zadeh, M. A., Sartavi, K. & Rastian, Z. 2007. Antiviral activity of aloe Vera against herpes simplex virus type 2: An in vitro study. African Journal of Biotechnology, 6(15): 1770-1773. DOI: https://doi.org/10.5897/AJB2007.000-2276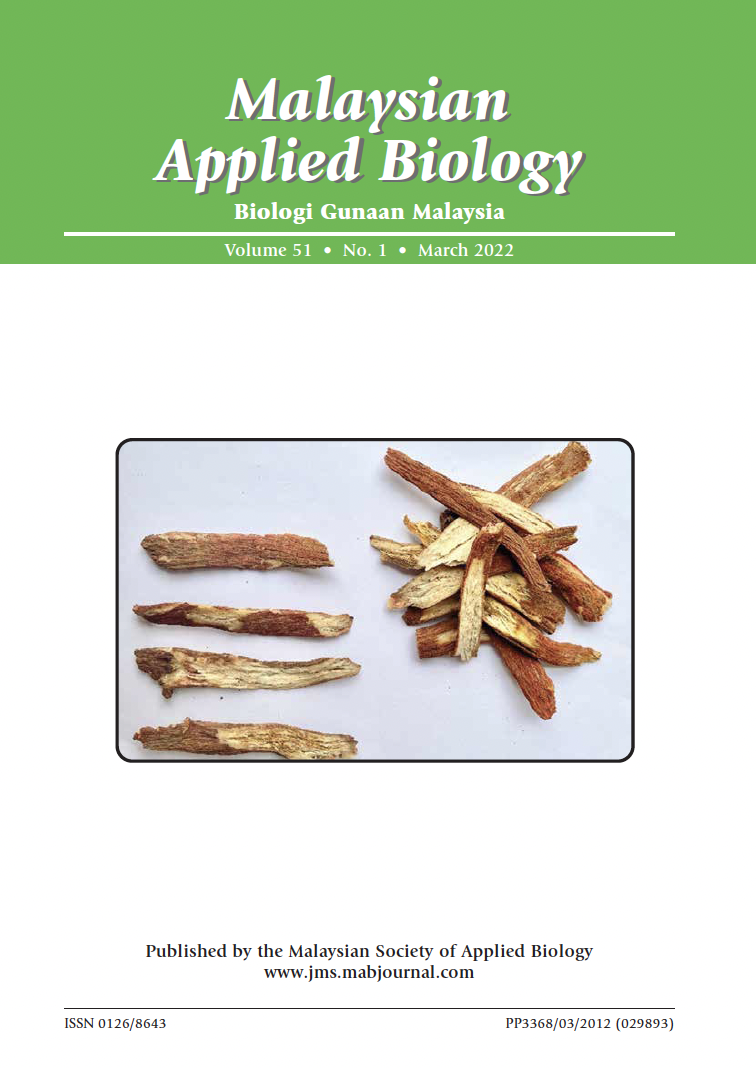 How to Cite
IBRAHIM, N. ., TAI, J. H., YIP, C. W., & MD NOR, N. S. (2022). KESAN PENAMBAHAN MINYAK KELAPA DARA ATAU EKSTRAK ALOE VERA DALAM MENINGKATKAN AKTIVITI ANTIVIRUS IN VITRO GONIOTHALAMIN: THE EFFECTS OF THE ADDITION OF VIRGIN COCONUT OIL OR ALOE VERA EXTRACT IN INCREASING IN VITRO ANTI-HHV-1 ACTIVITY OF GONIOTHALAMIN. Malaysian Applied Biology, 51(1), 37–48. https://doi.org/10.55230/mabjournal.v51i1.2167
Section
Research Articles
Copyright & Licensing
Any reproduction of figures, tables and illustrations must obtain written permission from the Chief Editor (wicki@ukm.edu.my). No part of the journal may be reproduced without the editor's permission